Twenty-Something Tuesday
[divider][/divider]
HALEY
Abraham Lincoln: He's my favorite president. He was really sassy and wise and was 6'4″ in a time when the average man's height was 5'6″. Plus, he wrote some of the most beautiful lines I've ever read. "Peace does not appear so distant as it did. I hope it will come soon, and come to stay; and so come as to be worth the keeping in all future time. It will then have been proved that, among free men, there can be no successful appeal from the ballot to the bullet; and that they who take such appeal are sure to lose their case, and pay the cost. And then, there will be some black men who can remember that, with silent tongue, and clenched teeth, and steady eye, and well-poised bayonet, they have helped mankind on to this great consummation; while, I fear, there will be some white ones, unable to forget that, with malignant heart, and deceitful speech, they strove to hinder it."

Leonard Nimoy: At first I was going to list Spock, but I realized I still have just as much of a crush on good ol' Leo. I do love him mostly for the character of Spock, but let's review: He's a silver fox, he's got that gravelly voice, and when he's in costume? Dem. Ears. Tho.
COURTNEY
Noel Fielding: Also known as Vince Noir, one half of the British comedic duo "The Might Boosh," Fielding is an actor, comedian and can sing a mean rendition of "Captain Cabinets," to boot. Add to the fact that he's gothically fabulous, looks good in any outfit no matter what (I'm not even exaggerating) and is hilariously funny as a team captain on "Never Mind the Buzzcocks," it's pretty easy to see why he's sexy.
DENISE
Jonathan Rhys Meyers: This guy was my first celebrity crush when I saw him in "Bend it Like Beckham" as soccer coach Joe. He's worked on many films and the TV show "The Tudors" where he played King Henry VIII. I just like him for being his weird self, in his words "I was always going to be different, and everyone knew it". And can we just appreciate that bone structure?
ERIN
Will Smith: So let's get this straight: tall, muscular, smart, witty, liberal, AND a defender of grammar? (Let's just ignore the whole "older, married, and potential connections to screwball religion" thing.) This might not be a weird one, but Will Smith is probably my biggest celebrity crush because he's basically my ideal man.

Mike Deni: Of the band Geographer, this man could be kicking puppies, but if he was singing with that angelic voice of his I would not even notice. Luckily he's from San Francisco so I'm pretty sure he'd be collecting signatures on homemade hemp paper to adopt from a shelter. I may not like skinny-jeans wearing hipsters, but God I love him.
KATIE
Jeremy Clarkson: The tallest and most arrogant of the U.K.'s "Top Gear" presenters, he's admittedly not what one would consider your normal celebrity crush. Yet every time he throws out another cutting barb and acts an even bigger asshole I love him a little bit more. He's ferociously competitive, unbearably superior, full of shit more often than not, rude, insensitive, and never misses an opportunity to make fun of America. He has an obsession with speed, power, and never fails to act like a dick or unapologetically piss someone off. I adore it.
Mark Gatiss: Admittedly he is a happily married man who likes to flirt with his husband on Twitter, but as half of the "Sherlock" brain-trust, writer of some of my favorite "Doctor Who" episodes, and of course the actor behind the spot-on Mycroft Holmes, I just love this ginger man. He's sassy, wicked, brilliant, and barbed—the four best features of a British man in my opinion—he dresses immaculately, jokes about murder, and trolls his Internet fans with the best of them. Besides the man twirls an umbrella like it's going out of style.
MICHELLE
Adrien Brody: From his brief appearance in "Angels in the Outfield" to the masterpiece that is "The Pianist" and even that terrible Stella Artois commercial, I've seen pretty much everything Adrien Brody has appeared in. While other people complained that "King Kong" was too long and drawn out, I wished it had been even longer just so that Brody could have more screen time. Known for committing intensely and holistically to his roles, Brody is a true professional and I admire him for that. Plus, there's something about his gangly frame and dark hair that kills me.
ERIC
Oscar Wilde: Ever since I read "The Picture of Dorian Gray," I've been a little obsessed with him. "The Critic as Artist" and "The Importance of Being Earnest" really clinched it, though. His epigrams stick in my mind and in the minds of most people who come across them. They're witty and, most of the time, reveal some aspect of human nature or society. Here are a few of my favorites:
"To love oneself is the beginning of a lifelong romance."
"I have nothing to declare except my genius."
"To lose one parent… may be regarded as a misfortune; to lose both looks like carelessness."
"It is absurd to divide people into good and bad. People are either charming or tedious."
And my very favorite: "Most people are other people. Their thoughts are someone else's opinions, their lives a mimicry, their passions a quotation."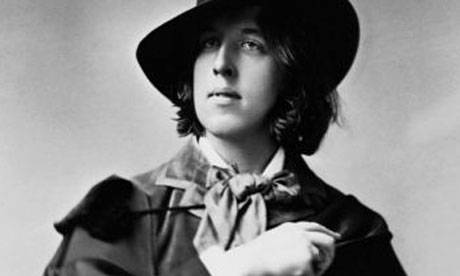 KRISTIN
Joe Biden: OK, so I don't think this is weird, but upon asking my friends what a weird celebrity crush that I have is, this was the resounding answer. The second most powerful man in the country and a charming man, Mr. Biden is the definition of relatable politician. He is the star of many of my favorite GIFs and silly quotes on Tumblr, but is also insanely intelligent. When I first started watching "Parks and Recreation," I totally identified with Leslie's insane love for him. I had the honor of hearing him speak and shake his hand and I have to say, that I have never heard someone so lovely and have never seen someone captivate a room so easily. Also, his work with women and girls and lobbying for domestic violence protection is just one of the many things so great about him. He is happily married, and I have to say as bitter as I am he is married, his wife may just be the only lady who deserves him. Plus did you see him at the State of the Union?!
LINDSEY
Tom Hiddleston: Granted this isn't weird given the number of people talking about Hiddleston lately, but I have to say, I just LOVE him. I'd like to say that it's not weird, but affection for Tom is definitely weird. Every time I read something about him I just want to curl up with Shakespeare, which I don't generally enjoy, but for Tom I'd read the whole Folio. He's handsome, talented, sweet, and a bit mischevious. Just what every girl wants in a crush. He looks great wielding a sword or reading a book, and he can quote "The Chronicles of Narnia" and does on Twitter.

Tom Welling: Apparently I have a thing for guys names Tom (I also love Tom Cruise, but that's neither here nor there). Tom Welling was my Clark Kent for 10 years, and "Smallville" was the first show I ever obsessed over. Tom Welling was inappropriately older than me, and I didn't even realize it considering he was playing a 16-year-old. I was in love, and even though I don't see him in movies or TV that often he was still my first celebrity crush, and I still just might have his cover saved from Seventeen Magazine.
KELSEY
Anton Yelchin: I first saw Yelchin as Chekov, in the most recent "Star Trek" movies, and I was immediately besotted with his accent and quirky acting in the movie. He originally hails from Russia, but he plays a wide variety of characters. In 2007 he appeared in the hilarious and touching movie, "Charlie Bartlett," and he also played Jacob in the Sundance film, "Like Crazy." "Star Trek," a genius and personable teenager, and a besotted lover to Felicity Jones. And he's pretty cute to boot. Sounds like a winner to me!
David Boreanaz: Can anyone say Angel?! First seen in Joss Whedon's "Buffy the Vampire Slayer" as the tortured vampire with a soul who Buffy could never be with. He was freakin' awesome in it! Although Spike was actually my favorite, but I digress. Then Boreanaz is Seeley Booth in the crime show, "Bones," and he is every bit the hero (without the tortured part) as he and Emily Deschanel save the day for nine seasons. On the physical level he is very attractive, and his torso is ah-mazing.
Johnny Depp: Do I actually have to go into why I love Johnny Depp? He. Is. BRILLIANT. Look at the wide range of movies that he's played in! To name a few of my faves: "Benny and Joon," "Sweeney Todd," "Sleepy Hollow," "Public Enemies," "Edward Scissorhands," "Pirates of the Caribbean," the most recent "Alice in Wonderland," "The Lone Ranger," all the Tim Burton movies… Oh my stars. Any movie that he's in , I basically love. And he's handsome, in his own way, of course—tats, fedoras, and all. The end.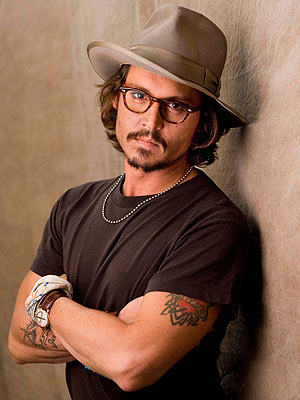 KIRSTIE
Ed Sheeran: Some might find a red-headed, tatted up, tiny-guitar-playing Brit a strange crush but let me assure you… There is NO SHAME in my Ed Sheeran game. I think he is the sexiest import Europe's ever given us, in more ways than one. Sure, the boy can pen a chart-topper and sing like nobody's business, but he's also proper well-versed in hip-hop, a fan of all my favorite TV shows, a true family man and he recently created a Twitter account for his rescued kitten. I'd urge y'all to jump on this bandwagon, but I'd rather have him all to myself.
Mark Hamill: Okay, so maybe I'm a little bit of a nerd, but man, the force is strong with this one. His flawless '70s feathered hair, his eyes, and let's be honest—I like to root for the underdog. I've never been one to go for the obvious male heartthrob (lookin' at you, Solo.) Even post car-accident Hamill is a bit of a stunner, in his own boyish way… Who doesn't love a good battle scar?
Brian Austin Green: So it's clear I like underdogs and boys who rap. Brian Austin Green, and his lovable "Beverly Hills: 90210" character David Silver, is one of my all time TV favorites. He's got gorgeous blue eyes, pretty underrated acting chops and quite the smile. He might have been a little geeky as a youngin', but that's oh so charming since he blossomed into a straight-up hunk. He did end up with Megan Fox, after all. (Just take a look at that transformation!!)
[divider][/divider]
Who is your weird celebrity crush?! Comment below or tweet us @LitDarling!
Related