Twenty-Something Tuesday
The heat is on, darlings. Summer is approaching and thus, we need the perfect drinks to cool us off! Whether you're at the pool, on the beach, on the porch or inside enjoying the A/C, there's nothing quite like a cool drink on a hot day to kick off the season!
Sunset Martini
From the Hotel Del Coronado in San Diego. This tropical delicacy is equal parts pomegranate liquor, pineapple juice, and Ciroc coconut vodka, and poured to look like a sunset. Girly and strong, just how we like our drinks!
Pimm's Cup
A traditional English drink, made with a gin-like liquor, a Pimm's Cup is the perfect (but not too sweet) taste of summer. Our first was on the banks of the Thames at an intermission at the Globe Theater, and every consecutive one we drink takes us back. It can be made a variety of ways, but the gist is to pair it with a ginger or lemon-lime soda, cucumber, mint, and lemons, and oranges. Personally we like a fruitier twist, but you can find traditional recipes here.
Screwdriver
While parents might groan (although let's be real, what do they not groan at?) that we've taken a liking to hard liquor, we find that this one is a particularly delightful foray. It's so simple—combine orange juice and some vodka in a glass with ice in it, and you have yourself a lovely mixed drink. But the thing is, you can go crazy in the flavored vodka aisle and mix up a real winner. Our current fave is orange juice with whipped cream-flavored vodka, because it tastes like a creamsicle. We might want to try cake-flavored vodka next though. There's no solid ratio for the orange juice to vodka, but we typically pour in about 3 to 4 inches of vodka over the ice, in a big tumbler, fill the rest with orange juice, and adjust as needed. Give it a whirl—you won't be disappointed. PLUS, you could always make yourself a SONIC screwdriver—holla to our Whovian bros and seestahs.
Margaritas
We're simple gals, and margaritas are simply delicious. We prefer frozen and salted, and peach- or strawberry-flavored. Shop around a bit to find a joint that makes a good one, and don't settle! If it comes down to it, figure out how to make your own. We love the smoothness of tequila combined with the bright flavor fruity flavor, and sometimes it loves us a bit too much, if you know what we're sayin'…
Mojito
When we first moved to Italy and discovered that they did not have cranberry juice or ginger ale, we literally did not know what to drink when we went out to bars. For some reason, though, even the clubbiest club had fresh mint on hand for mojitos, and our drinking became about 20 times more sophisticated. They're not very strong, but for something light and refreshing to drink during the hot months, you can't beat the mint, lime, rum, and sugar muddled together and topped with soda water. In college, we made these with strawberries too—also delicious!
St. Germain Champagne Cocktail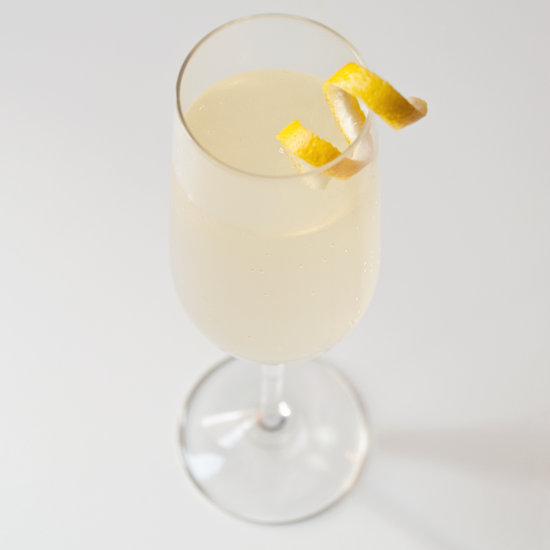 Whenever we go to a bar, one of our first questions is, "Do you have St. Germain?" St. Germain is an elderflower liquor—basically it tastes like sweet flowers. Mix a little of that with champagne or prosecco and add a lemon twist, and you fancy (but be careful: do this three times, and you're drunk).
Villa Maria Marlborough Sauvignon Blanc
We love our red wine as much as every girl, ever, but in the summer sometimes it's just too damn hot. An Australian friend brought this to a party once because she had been to the vineyard, and we went to the store to buy some the next morning. At $15 a bottle it's probably twice what we would usually spend (we love you, Trader Joe's!) but well worth it once you taste the "gooseberry, passionfruit, fresh citrus, melon and herbaceous aromas." Not sold yet? "The wine has an enticing palate with a juicy flavour profile, purity and concentration, finishing crisp and clean with an interwoven thread of acidity."
Shiner Ruby Redbird
If you are of age in Texas, you are required to drink one of these every summer to maintain residency. With hints of ginger and Texas ruby-red grapefruit, it's the most refreshing a beer can get. Some of us may have a hidden stockpile of this summer seasonal that lasted well into March last year (*ahem*).
Mai Tais? Pina Coladas? Mango smoothie? What's your favorite summer refreshment? Tweet us @litdarling or comment below!
Related