Twenty-Something Tuesday
Last Halloween, you swore you wouldn't wait this long to choose a Halloween costume, but here you are again. Your procrastination has reached new heights (or new lows?) and even fun stuff like getting spooky for the season has escaped your efforts. These are the best ever costumes, from the personal lives of Literally, Darling writers to the extravagant efforts of celebrities to the regretful byproducts of the Internet's deepest caves. Let them inspire your last minute dash to pull something together, with a week to go before All Hallow's Eve.
1. These dogs.
'Nuff said.
2. Every Halloween costume Heidi Klum has ever worn
Okay, so Heidi admittedly has a professional posse of makeup artists and stylists as well as probably endless money, but you have to be impressed by her efforts. These costumes are more than just lingerie with animal ears.
BONUS: She was an old lady in 2013.
3. Anything punny! (Aka anything from this site)
From a French Kiss to a Freudian slip (Michelle!), punny costumes are the perfect conversation starters at any Halloween party and oh so much fun to put together!
4. Emojis!
5. The Spice Girls
This is a wonderful throw-back costume that's perfect for a group of friends and allows for lots of creativity! Not to mention one of the Spice Girls' names practically screams Halloween (I'm sure I don't have to tell you which one…). Spice up your life, darlings!
6. A favorite literary character!
Anyone would do, from McGonagall, to Elizabeth Bennet, Sherlock Holmes, or Peter Pan. For sheer simplicity (because I just happen to have all the appropriate pieces), I'm may go as Cheryl Strayed from her book "Wild." Get some more tips here: Eleven Literary Costume Ideas
7. Makeup Pro-Extraordinaire 
If you're so inclined to try out some makeup challenges—many makeup artists and brands have made some AWESOME tutorials. So check out your makeup stash and give it your best shot!
– Urban Decay's Night of the Living Doll, Walk the Plank, and The Craft (pick one!)
Alle, on xoVain, has been covering Halloween looks all month—including an "Arrow" look that we want to wear as our standard look all the damn time
Sephora's Too Faced Halloween Makeup Tutorials: Cleopatra, 70's Super Model, 80's Pop Star

Nicole Guerriero's: Little Red Rotting Hood, Killer Clown Couple, Queen of Hearts, and SO MUCH MORE
Batalash Beauty's Timelapse Transformation: Statue Makeup and Sugar Skull
8. Rory Gilmore
Take inspiration from the hottest binge show on Netflix right now and remember your nerdy youth. Grab a blue plaid skirt, button down, and blazer (bonus points for Oxford saddle shoes), clip your hair back in barrettes, carry an overflowing bookbag, and walk around with a book in one hand, coffee in the other. Make sure to blush often, chastely kiss a tall dude, and speak quickly.
9. Rosie the Riveter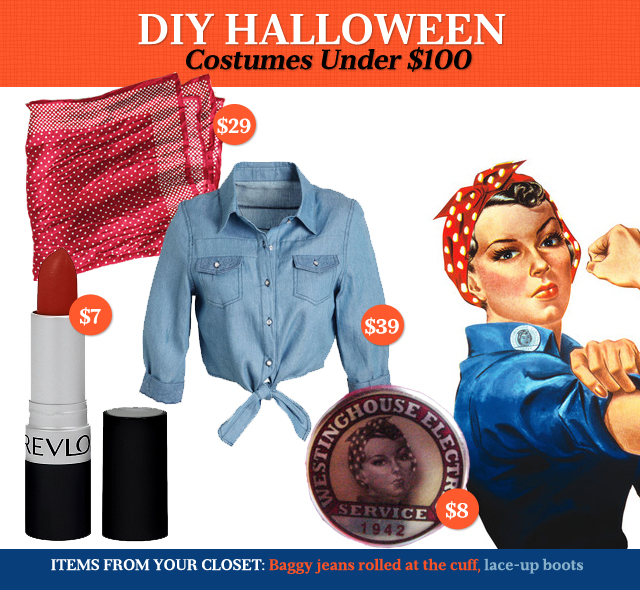 Don't have a big budget to spend this Halloween? Then go as Rosie the Riveter! It is as simple as pulling on a pair of jeans and a blue shirt, and buying a red bandana from Target. Plus there are plenty of hair and makeup tutorials on YouTube to provide some inspiration!