She's the fresh face of feminism and fashion.
From her roots as the fiercely intelligent Hermione Granger from the Harry Potter series to the kickoff of her #HeForShe campaign at the UN Summit in September, Emma Watson is ready to take over the world—all while donning Dior, of course. Dubbed the "most flawless woman of the decade" by BuzzFeed, Emma graduated from Brown University in Providence, Rhode Island in May of 2014 with a degree in English Literature. As the youngest-ever appointed UN Women Goodwill Ambassador, Watson is the up-and-coming face of gender equality, a woman to transform a new generation, both on and off the red carpet.
As the youngest actress to have ever appeared on the cover of Teen Vogue, Watson always finds a way to add an edgy twist to her ensemble. Her Parisian-chic with a hint of grunge (yes, grunge is making a comeback) has paved the way for Watson to be the style icon of our decade. Who else can pull off layers of tulle with a Jean Seberg pixie cut? Never afraid to play with fabrics (feathers and lace at the premiere of "Harry Potter and the Deathly Hallows: Part 1," anyone?), her minimalism triumphs any look. The 2014 Best British Style award winner famously pairs her mini-dresses with neutral eyeshadow palettes and loose buns, exuding an unparalleled simplistic and sophisticated Hollywood glamour.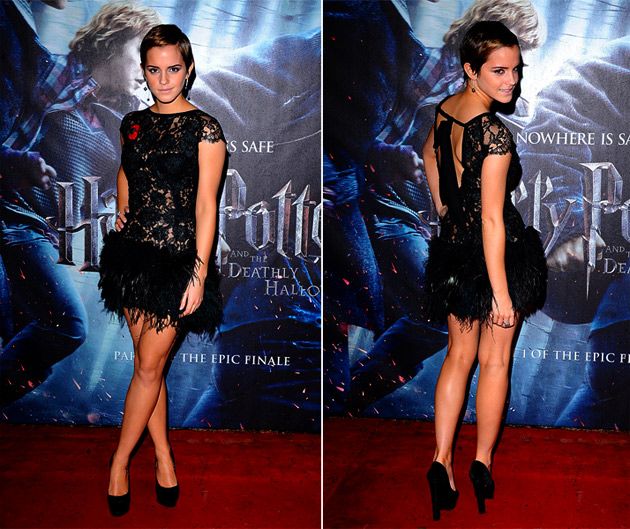 Preppy meets rock n' roll
Orange-Is-The-New-Black and On-Wednesdays-We-Wear-Pink don't apply to Watson's signature look since the Parisian-born actress prefers the classics: black and white. Really, we should expect nothing less from the "Noah" actress who was once rumored to be the face of Chanel before officially accepting the role with Burberry. Whether adding a sporty jacket to an elegant gown, or combat boots with a simple cashmere sweater, Watson knows exactly how to bewitch her wardrobe, which is nothing short of magic.
All about that hair 
You don't need a pixie cut to rock Watson's signature hair look. While other women her age often hide behind layers of hair, as soon as her Harry Potter contract was up, Watson chopped it all off. Even though a journalist inquired if she was coming out as a lesbian when she chopped off her locks back in 2010, the look definitely confirmed her spot as an up-and-coming fashion starlet. Watson told Glamour magazine in 2010 that, "The majority of the boys around me were like, 'Why did you do that? That's such an error.' And I was like, 'Well, honestly, I don't really care what you think!' I've never felt so confident as I did with short hair—I felt really good in my own skin." Get it, girl. Even as her locks have grown out, Watson flawlessly rocks every runway look.
See Also
Those lips though
Emma's makeup is best described as an effortless pretty. She's known to sport nude eyes with a dark lip color which is both dainty and daring. She wears minimal foundation, allowing her freckles a chance in the spotlight. Watson is the perfect example of how every girl is just one bold shade of lipstick away from Hollywood glam. Lucky for us, Watson took to Twitter back in March to share her beauty secrets:
Have any of these items in your makeup bag? Tweet us @litdarling
Related