[video src="https://www.flickr.com/photos/39975765@N05/8717329046/"]
Twenty-Something Tuesday
It's the start of a new year, which for some means radical self-transformation and for others means "if it ain't broke, don't fix it." If you're of the latter party and are looking to continue your lazy ways, but still try some new things so you don't seem totally resigned amidst all your resolved friends, here are some new recipes that won't break your brittle back in the kitchen.
Oreo Truffles

A roommate showed us this recipe when we were going crazy from being unable to bake in our oven-less dorm room. They're super handy to make because they only take 3 ingredients and require no mixing bowls/mess, and we always take them when I'm asked to bring something to a gathering.
Ingredients:
1 package of regular oreos
1 package (8oz) of plain or low fat cream cheese
1 candy bar (Hershey's, Cookies 'n' Cream, white/dark chocolate)
Put entire package of whole oreos inside Ziplock freezer bags (double bagged in case of accidental opening)
Next, the stress-relieving part. Smush and break up the oreos with your hands or a rolling pin on the table (or that textbook you hate, get creative!) until they are evenly made into a paste with only a few bigger crumbles
Add entire brick of cream cheese to bag and mix again. Let chill in refrigerator for 1 hour
After chilling, take even small amounts of "dough" about quarter sized or bigger according to your preference and roll into balls in your hands. Place on tray and put in freezer for ½ hour
While in the freezer melt any chocolate bar of your choice in a small container in microwave
Remove truffles and dip tops into chocolate
Chill for 15 minutes one last time to harden
Tortellini Soup
When you're sick and you just can't anymore, let Nonna take over and make tortellini in brodo. Boil cheese tortellini in chicken broth per package directions. Grate some cheese on top (parmigiano reggiano or otherwise). Add shredded basil if you're feeling really fancy.
Pesto Pasta
You need 5 things: basil, parmigiano reggiano (or pecorino romano) cheese, pignoli (pine nuts), olive oil, and pasta. Roughly equal nuts and cheese, twice that in basil. Full recipe here. If you want to be fancy, top with avocado and toasted pine nuts. If you want to be accurate, add some garlic (I'm allergic, cannot vouch for how much you need). 
Roasted Chicken & Veggies 
It seems so daunting to put a full meal together for yourself, but seriously, all you need is an oven, a cookie sheet, olive oil, and some spices.
Start with boneless skinless chicken breasts, cover in olive oil, garlic salt, pepper, and an Italian seasoning grinder. If you're feeling fancy, squeeze some lemon juice over the top. Put them on half the cookie sheet. On the other half cut up some potatoes (any kind), carrots, brussel sprouts, or squash (or a mix!) and season with the same. You could add some fresh herbs (sage, rosemary, thyme) if you've got it, but if not, don't worry about it. Pop it all into the oven at 350 degrees for about 45 minutes. Flip everything about halfway through. Voila, a full dinner in less than an hour.
Spaghetti Aglio e Oglio
Don't be fooled by the fancy Italian, it's seriously just garlic in olive oil. All you need is your favorite box of spaghetti, a large saute pan with a shallow bottom, olive oil, and garlic. Get your spaghetti boiling, and then coat the bottom of your saute pan with olive oil (you probably want to cover the bottom twice). Let your oil heat and then add your finely chopped garlic. If you don't want to chop an entire bulb of garlic, buy the pre-dried garlic in a jar. Quickly add it to your hot oil and let it lightly brown. This will happen fast so DO NOT LET THE GARLIC BURN. If you want to further flavor the oil, add salt and fresh pepper, lemon zest, or red pepper flakes. As soon as the garlic browns, remove from heat and add your al dente pasta. Mix together and add some parsley or basil and some cheese to top, and you have dinner! It's great on its own, as a side dish, with chicken/seafood mixed in or however you want to serve it! (Just brush your teeth four times over after it, because you will never have had garlic breath this bad before.) 
Italian Baked Chicken
Get as many chicken breasts as you plan on cooking and, if they're frozen, put them in a Pyrex baking dish. If they're not frozen, but them in a plastic baggy. Cover them liberally in House Italian dressing (like, it's OK to use the whole bottle). Splash on some steak sauce like A.1 (I prefer Dale's, locally made in Birmingham, Alabama, if you can get it)—don't be afraid to use a lot of that, too. Use a fork or some tongs to make sure all the chicken gets coated with the sauce. If the chicken breasts are frozen, feel free to cover the dish and leave it on the counter to thaw all day while you're at work or school. If they're not frozen, put the baggy in the fridge to keep them cool all day while they marinate. Bake them at 350 degrees for around 40 minutes or so. Serve with veggies or mashed potatoes. 
Baked Brie
This is so easy and so, so good. All you do is purchase a wedge of brie, crescent roll dough and maybe a special kind of jam. Wrap that brie in dough, place in a 350-degree oven and bake for 30 minutes. Voila! Serve with jam, apples and French bread. 
Ramen Pad Thai
This is next level lazy. Make ramen as you would under normal circumstances: Boil two cups water, wait until the noodles are tender and empty the included flavor packet. Once the ramen has been made, drain almost all of the liquid. Add one tablespoon of soy sauce, two tablespoons of chunky peanut butter and one tablespoon of sriracha. If you want to get fancy, you can add garnishes like cilantro, scallions or egg. Stir and enjoy! It may sound daunting to add peanut butter to your ramen, but the end product really does taste like the pad thai from that place on your block.
Pineapple Fried Rice
This recipe makes a ton of food in a short amount of time. In one bowl, mix three tablespoons soy sauce, half a teaspoon of pepper and half a teaspoon of ginger powder (if you have it). In a huge skillet, add all the vegetable trappings of your recipe. This can be corn, carrots, peas, whatever—get crazy. Don't forget to add olive or vegetable oil to the pan as well. Heat for three minutes. Next, stir in rice, pineapple, protein and the soy sauce mixture. Heat for an additional two minutes and you have just made take-out worthy fried rice.
English Jacket Potatoes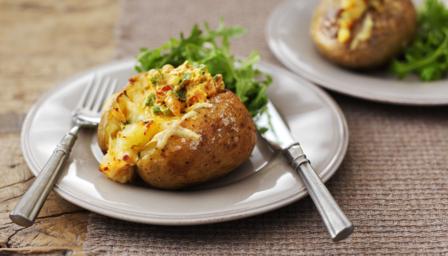 These find their way onto our table more often than we'd like to admit (except they are totally delicious, so even if we weren't lazy we'd opt for these on a cold night). Grab yourself a potato and rub it down with olive oil, poke it all over with a fork, and stick it in a 350 degree oven until it's super soft on the inside and crispy on the outside. Cut that bad boy open and top with whatever you damn well please. Our favorite is baked beans and cheddar cheese, but anything you enjoy in a baked potato/have in the fridge will work, too!
Scrambled Eggs & A Vegetable
Beat eggs in bowl with some milk.
Saute vegetables until they are cooked (or use leftovers, even better)
Pour eggs over vegetables.
Scramble around until they are cooked.
Salt and pepper.
Eat in front of the TV.
Good ol' Stouffer's Lasagna
For the hungry and the ambitious:
Ingredients: One trip to the grocery store, thirty seconds in the checkout line, an oven, an hour's worth of "Friends" episodes
Hop in car and drive to nearest grocery store (or walk if feeling especially ambitious)
Find frozen food aisle and select Stouffer's frozen lasagna (family size)
Go home and preheat oven to 375
Remove lasagna tray from package (keep plastic cover on top), put in oven
Wait an hour
Enjoy!
Related