Florals for spring are something of a no-brainer.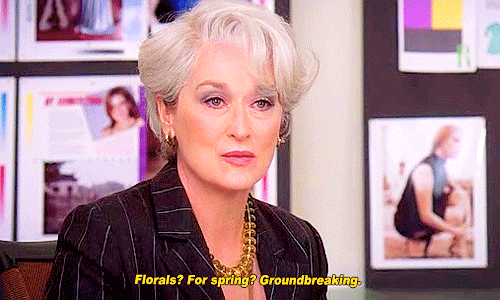 But with winter hosting its last hurrah, the season of florals is inevitably on the horizon and not even Miranda Priestly's scintillating scorn towards the not-so-groundbreaking style can stop it. And designers and style mavens alike are reinventing and embracing the long-adored look. After months of neutrals and suffocating sweaters, florals are an irresistible breath of fresh air. Because florals are so quintessentially spring, the styles and options are endless.
1. Mixing Prints
The idea of pairing two prints at once is a dizzying one that seems to cause shaky knees and nervous sweats. However, despite what you have been told, mixing prints can and should be done. Pairing prints creates a rich, eclectic look. The key factor when sporting two prints at once is color scheme. Keeping the colors close or complementary is essential. Try playing around with the size of the prints.

mixing florals by lmarie-dozier                                            Mixed florals by lmarie-dozier
2. Mirror prints
Reflective patterns are a modern, unexpected way to subtly incorporate florals in an edgy way. Reflective shades, chunky, neutral heels and bright, solid accessories compliment the bold, mod look.
Mirror florals by lmarie-dozier                                     mirror dress by lmarie-dozier
3. Bold
Florals had a major moment on this year's spring runways. Rather than shying away from the tried and true trend, designers made it bolder than ever. Florals were vibrant and supersized, in statement colors and mutant wallpaper patterns. Don all-over florals or try pairing the look with sleek, black bottoms and bright accessories.
              bold floral print by lmarie-dozier                                bold florals by lmarie-dozier
4. Watercolor
Perfect paired with pastels or brightened up with bold accents, watercolor prints are soft and splendidly springy.
See Also
                     watercolor shorts by lmarie-dozier                                               Watercolors by lmarie-dozier
5. On Bottom
Not for the faint of heart, floral pants are bold, but can be done. The pattern must be chosen carefully. I'm drawn to something that includes deeper tones or a darker background. Black and white is sophisticated and unexpected with a simple black top and neutral accents.
floral pants by lmarie-dozier                                                     Flower pants by lmarie-dozier
Related