Netflix is one of the most amazing things to come out of the Internet, but at times it can also be quite overwhelming. I swear I spend more time searching for things to watch than actually watching them. I'm very guilty of regularly spending 26+ hours in a weekend binge-watching a full season of a show. To make the hunt easier, I highly encourage you to download the extension God Mode for Google Chrome, which lets you view all the movies/shows for each section on one page rather than showing them through the scrolling carousel setup.
This list is the perfect place to start if you aren't sure what to watch next. I find all of them essential to watch all the way through if you haven't already. Each has characters you'll easily fall in love with, and they all take you on an emotional roller coaster at some point or another.
1. "Friday Night Lights"
"Friday Night Lights" is probably my favorite TV series. I've watched it three times all the way through and it never gets old. Contrary to popular belief, the best part of this show is not the football. I find the characters to be the most compelling part. Connie Britton's role as Tami Taylor is amazing, and her dynamic with Kyle Chandler as Coach Taylor places them among my favorite TV couples. Everyone can find a character to fall in love with on this show. Plus, who doesn't need more of Coach Taylor's inspiring speeches in their lives?
2. "Orange is the New Black"
By now you've surely seen "Orange is the New Black," unless you live under a rock. If you haven't, season 3 comes out June 21, so you have plenty of time to catch up on what has happened thus far to Piper in prison. The show is action-packed, so it's always nice to brush up on the prior seasons before watching a new one. There are a plethora of reasons to pick this show (including the amazing cast). Unpopular opinion alert but I actually can't stand Piper's character. The reason I watch is for the interesting backstory of all the other female prisoners, which is the reason I recommend you watch too; it's some of the best character writing I've seen and thus far the writers have not disappointed.
3. "Friends"
This '90s favorite is finally on Netflix, and millennials everywhere are rejoicing. I watched the show on and off growing up while it aired on cable but never had the chance to watch it all the way through, so I'm very excited about this new addition. I love watching Jennifer Anniston in "We're The Millers," so I can't wait to watch her on the show she's best known for.
4. "The Following"
If you are a fan of crime shows or Kevin Bacon, you should start watching "The Following" immediately. Although at times graphic, this thriller is riveting. Only the first two seasons are on Netflix but this show is current, so watch what you can and get caught up on Season 3 as it airs live now. If you can get past the violence, then the dynamic between main characters Ryan Hardy (Kevin Bacon) and Joe Carroll (James Purefoy)  makes this show one not to miss.
5. "Gossip Girl"
"Gossip Girl" is my favorite guilty pleasure show. It's perfect for having mindless TV in the background, or when you want to relish in some teen drama you're glad to have grown out of. I also get serious outfit envy from the clothes seen on the show (Blair Waldorf is one of my style icons). You should watch this show for the style inspiration, if nothing else (because while I too get wrapped up in the relationship drama, the clothes are what makes it for me).
6. "Parks and Recreation"
I'm still in denial that the final season of "Parks and Rec" has ended; I will never have enough Leslie Knope or Ron Swanson in my life. The show is witty and hilarious, and the most recent season proved that Knope is a badass (which we already knew) with very on point political commentary. My favorite episode from the most recent season is "Pie Mary" because of the extremely on point commentary regarding women in the workforce and the joke that is "meninism." One thing is for sure, this show is one I'll be re-watching it for years to come, and most likely you will too.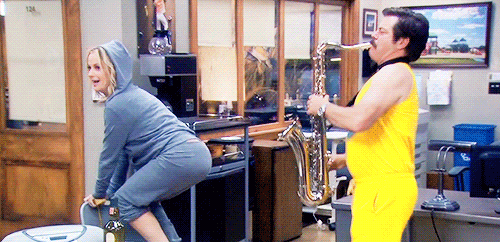 7. "New Girl"
"New Girl" is another favorite comedy that never quite gets old. I will never get sick of Schmidt and his comments that land him a dollar towards the "douchebag jar." His one liners are what makes the show for me, along with Zooey Deschanel's awkwardness, which I heavily relate to. Some episodes are better than others, but overall the show has the perfect combination of comedy and entertaining plot to be worth watching more than once.
8. "Sherlock"
"Sherlock" is the show that I continually force upon anyone who hasn't seen it. My only wish is that it came out more often than three episodes every few years! This modern day detective tale is action-packed, and Benedict Cumberbatch and Martin Freeman make a great pair. "The Sign of Three" from series 3 might be my favorite episode of a TV show that I've seen thus far in life. Perhaps the most well executed TV series I've ever watched (and I've clearly watched a lot of TV), this show is one to see as soon as possible if you haven't already.
---
The next time you're choosing a show for a weekend of non-productivity, consider one of the great options on this list. All of these shows have compelling reasons to watch besides the most obvious, and there's something to love regardless of if they fit your favorite tv show genre. Grab some snacks and your pajamas for a cozy night in and settle in to find your new favorite !
Have a favorite show that didn't make it on this list? Tweet us @litdarling or tell us in the comments below!
Related