It's summer, and unless you live in the far reaches of the north, it's f*cking hot. Or it's going to be very soon. As your lattes change to iced lattes, your jeans to shorts and your sweat glands begin to work overtime, the last thing you need is to slave over a hot oven. Here are some of the best, easiest and ultra-chill meals to keep you cool all summer long.
---
Sometimes you just need dark leafy greens, protein, and of course bacon. Spinach salads are the best because they don't take a lot of ingredients, they're sweet, salty, with a vinegar kick, and best yet, very filling. If you're like us and often crave iron on your period, but it's just too hot for a steak, this is a great alternative. We like ours with feta, croutons, tomatoes (not traditional), dried cranberries, and sauteed red onion in the bacon, balsamic vinaigrette (you can swap it out for the white or red wine vinegar most recipes call for) dressing. The little bit of heat from the dressing lightly wilts the spinach and makes it a delicious summer meal.
This salad is one of the best things ever, and is perfect for college meals. It can be made year-round, but there's something about the summer that makes salads much more appetizing.
This wrap is beyond delicious and definitely filling without making you feel like you've gone overboard with flavor. Initially it does require some grill work if you'd like fresh grilled chicken, but there's always the option of leftovers. It has a balsamic dressing that brings out that flavor in the chicken and the strawberries and it just an easy, yummy way to eat a salad without feeling like you're eating a salad.
This salad will slay your next social function. It's full of protein and fiber and is filling enough to be a meal by itself. The sweet and spicy dressing is a perfect complement to the fresh and filling ingredients, and it's incredibly easy to make – though it does require a good amount of chopping. Get ready to spend some quality time with your best knife and cutting board.
This dish is super easy and pretty satisfying for anyone on a cold Chinese-food kick. These noodles can be served hot or cold, but taste best cold. Not to mention that this dish applies to those trying to watch their weight, it's light in calories and very flavorful.
This appetizer might seem small in portion, but you'll be stuffing yourself with slices of toasted french bread topped with this delicious bruschetta it'll feel like a meal fit for royalty. Easy to make for a crowd or just yourself, and plentiful with bright colors and bright flavor.
Whoever said that you shouldn't mix seafood with dairy hasn't tried this recipe. It's quick, easy, and if you are freaked out by fresh shrimp you can totally just defrost some pre-cooked ones and call it a day. Plus, if you whip up a double batch of the dressing, divide it in half, and add a tablespoon of dijon mustard to one half of it, you'll have salad dressing for the week. Pretty neat!
We've adopted this recipe from a black eyed pea and tomato salsa that is to die for in a summer heat wave, but isn't ideal for a whole meal. While Guy's recipe is great, we like to keep ours a bit simpler – black eyed peas, chopped tomatoes, cilantro, green onions, lime juice, salt, pepper, cumin, olive oil, and red wine vinegar mixed together and combined with basmati rice. Serve cold and gorge yourself.
What's better (or easier) than a plate full of cold meats, cheeses, spreads, and crackers? You can buy yourself a fancy board for it or roll out some craft paper on a table and write labels underneath it. It's easy, especially for a crowd, and can be made up of whatever excites you most. Want cherry tomatoes and fresh mozzarella on a baguette with thin sliced prosciutto? What about that delicious brie and salty olives? It can be as expensive and elaborate or as cheap as you like. We've been known to get a rotisserie chicken, grapes, and provolone and pig out.
My roommate and I discovered this recipe by accident at the beginning of the summer and we've already returned to it three or four times since then. It's so easy to make and a great way to use up leftover vegetables you might have in your fridge. I rarely find myself filling up on salads, but the chickpeas in this recipe will keep you full and energized on those draining summer days. Make a big bowl of this salad and eat it throughout the week either as a side dish or just a spoonful here and there.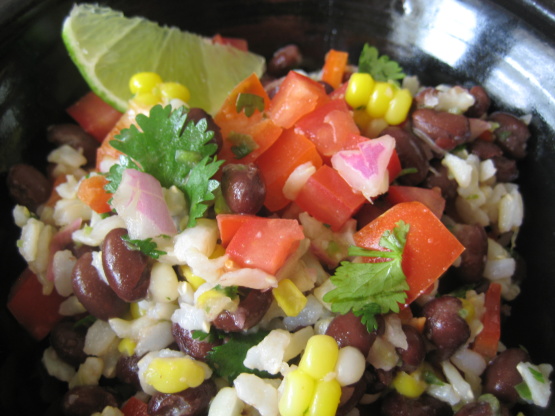 My family has prepared this recipe for years, and it's quick, easy, and delicious! Plus, it's vegan, and a complete protein with the combination of black beans, corn, and rice. It's quick to prepare, a crowd-pleaser, and can easily be served with chips at a party, or over rice or quinoa as a meal. Add some avocado to it for an extra dose of healthy fats. If you have time, let it marinate for a bit in the fridge so the flavors can meld together. Make sure to give it all a good stir before serving!
I've been following this blogger for a few years and I have loved all the recipes I've tried. The site is full of gorgeous and easy salads, which are always topped with the most colorful and tasty toppings. Salads are perfect for quick summer meals, especially because the ingredients usually don't need to be cooked. This specific recipe, Rainbow Thai Chicken Salad, calls for already cooked chicken, which you can get from a rotisserie chicken. Then it's topped with diced avocado, mango, carrot, pepper, green onion, and peanuts. The homemade dressing is easy to whisk together and you probably already have the ingredients if you make homemade Asian dishes often!
Related