I'm sure all of you have been glued to your TV screens during the entire FIFA Women's World Cup this summer, so you know that the end is nigh. The drama of a soccer tournament is like none other, and each team has a unique story to tell. Whether you're just tuning in or you're a vet like me, here are a few of the things to know about the Women's World Cup finals and herstory.
1) The final game is Sunday, July 5, a showdown between the US and Japan. The game will be at 4 p.m. local time in Vancouver (PST) (which is 8 a.m. Japan time), and if you are in the US, it will be on FOX. Despite being the reigning champs going into the tournament, Japan was ranked #4 going into the tournament, and the US team was ranked #2.
2) To get here, the US defeated top-ranked Germany 2-0, and Japan won 2-1 after England scored a heart-breaking own goal in the last minute of the game. Germany and England will play the consolation match on Saturday, July 4, at 3pm CST.
3) Hashtags for the tournament are #WWC, #WWC2015, and the most important one #USWNT.
4) Normal matches are approximately 105 minutes—two 45 minute halves with a 15 minute break in between (though extra time is usually added to the end of each half to adjust for time spent on substitutions, fouls, etc). If there is a tie after 90 minutes of play, two additional halves of 15 minutes each are played regardless of goals scored (no "golden goal"). If there is still a tie after 120 minutes of play, the game will be determined by penalty kicks.
5) The US has one of the oldest squads of the tournament, with an average age of 29 (Japan's average age is 27.7). Old-timers include captain and all-time top scorer Abby Wambach (35), who has scored 183 goals in her career (25 more than Mia Hamm), and goalkeeper Hope Solo (33). Youngsters include badass defender Julie Johnston (23).
6) The US team's greatest strength is their unchanging defensive 5: Ali Krieger, Hope Solo, Meghan Klingenberg, Julie Johnston, and Becky Sauerbrunn. They have not allowed a goal in 513 minutes of play, since their first tournament game (against Australia which they won 3-1).
7) Japan's style of play is very team-oriented, if a little boring to watch. They usually pass the ball after two touches. Their coach has described them as small but mighty, with the hearts of lions.
8) The United States has won two World Cups: the first ever in 1991 and the one Brandi Chastain made famous in 1999 (which holds the record for largest attendance for a women's sporting event EVER, with a crowd of 90,185). The lowest the US has finished in any World Cup is 3rd.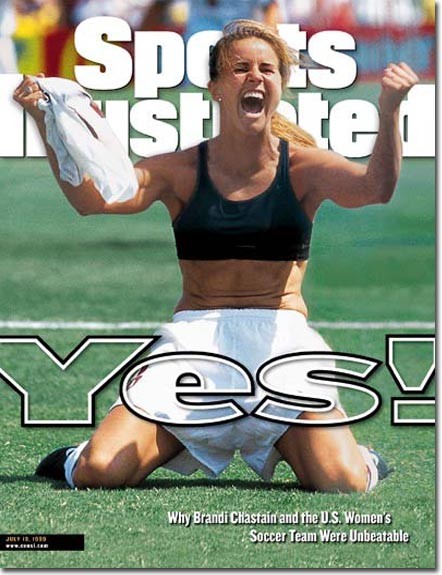 9) Japan defeated the US in the most recent 2011 World Cup on penalty kicks. Then, the US women defeated Japan 2-1 to win the gold in the 2012 Summer Olympics. The teams have faced each other once since then, with a 1-1 draw in 2014.
10) Players to watch on Japan's team: Captain Aya Miyama, who has 2 goals and 2 assists this tournament; super-sub Mana Iwabuchi, who is only 22. Feel free to giggle a little every time you see Shinobu Ohno's jersey.
11) Players to watch on the US team: midfielder Carli Lloyd has scored 3 goals in the tournament so far; pink-headbanded endorsement darling Alex Morgan is coming off a knee injury but has scored one goal; and defender Julie Johnston is completely unstoppable.
12) While many teams have…how can I put this lightly… Team USA rejects on their squads (see: Karen Bardsley of England, who was born and raised in California, Catalina Pérez of Colombia, who grew up in Florida and is a current college student there, Lauren Sesselman of Canada), these two squads are fairly nationalistic. All of Japan's players were born in Japan, and only one US player was not born in the US (Sydney LeRoux, who moved at 15 from Canada to play for the US).
13) The prize for winning the Women's World Cup doubled to $2 million this year. Compare that with the $10 million prize Germany took home for winning the men's World Cup last year. #somebullshit
BONUS FACTS ABOUT THE CONSOLATION GAME:
Germany has insane stats for this tournament, mostly due to a 10-0 massacre of Ivory Coast in the first round. They are 16/17 all-time for penalty kicks in the World Cups, with the rare miss coming from the game against the US. They also have a superstar player, Célia Šašić, whose name all the announcers mispronounce as "sausage."
England is ranked 6th in the world, so the Lionesses, as they are called, are doing very well for themselves in this tournament. One of their players, Fara Williams played on the national team for six years despite being homeless, Karen Carney looks exactly like Pennsatucky from "Orange Is The New Black," and their coach wears very tight shirts.
I know the proper thing to do here is put a "Who are you rooting for? Comment below!" tagline here…but the correct answer is to root for the U.S. Even though they underestimated Japan in the last World Cup, they stand a good chance to win on Sunday, plus the way that Japan got into the finals is BS.
Follow along with my thoughts during the game on Twitter @theduckiest.
Related