Each night when you're changing for bed and you take your bra off there's that fleeting moment of relief. No longer are you bound with wires and straps digging into your skin; you can finally scratch that spot that you didn't even know had been bothering you until suddenly there's no longer pressure on it. There's air on your skin and you're free! Free at last at the end of a long arduous day from your boob prison.
And then you take a step and instantly everything hurts, you grab your breasts and hold them on the short walk to bed, prop them up on pillows to get some kind of support, and seriously ponder if there are full figured bras for sleeping.
If you can relate to any of that, you're like me and your cup runneth over in mammary glands. When the great boob genetic giver was handing out breasts, they built you a rack big enough for cats to stand on without any support. And there's the rub: a lack of support. Despite Victoria's Secret prancing around large-breasted tiny women, they do a rather atrocious job of providing bras for the ladies who would be best served by being assigned two large hands to hold up their breasts throughout the day. They're pretty, but they don't do much else.
So, my fellow big boobed bosom buddies, I've decided to put my years of bra shopping to use and give you some helpful hints of the most supportive bras that actually hold my breasts and take some of the weight off my back, and where you can find them.
Leonisa
Favorite bra: Posture Corrector Wireless Back Support Bra
Yes, that does say wireless. Believe it or not, you can hold up the watermelon twins without wires stabbing into your sides day and night. I will admit I was skeptical when I saw it, as generally when something makes such a claim, it means it's going to be so tight I may as well be wearing a straight-jacket. But as soon as I put this bra on, something miraculous occurred: my back and breasts stopped hurting. I've been wearing it every day since I got it, and if I could I would do away with wires for the rest of my life. The best part of this bra is that it has support specifically built in for your back and shoulders to help offset the heavy breast weight.
Caveat: Sizes stop at 40DD
Soma
Favorite Bra: Stunning Support Balconet Bra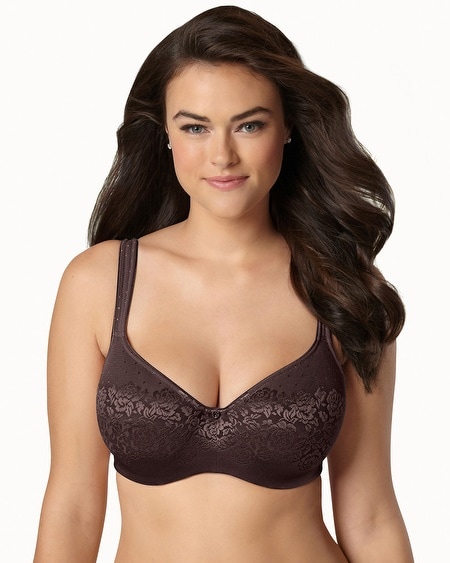 Soma's range of bra sizes almost can't be beat. They routinely run up to 44G so they're not messing around when it comes to providing bigger bra sizes. Their bras also do a stunning job of literally defying gravity. The first time I put on one, a slight glimpse down had my chin touching my cleavage. I'm pretty sure if I cinched it tight enough they could possibly reach my ears. So if you're tired of support bras doing their best to keep you from flaunting the girls, Soma bras are for you. I'm a big fan of balconet bras in particular for this reason, they don't come up too far to peek out of your shirts, but it being a support bra first means everything is still properly locked down.
Caveat: There is so much support (including under arm) that you're squeezed into the bra to eliminate all movement. I've tried a range of sizes and measured accordingly, and they all pinch.
Title Nine
Favorite Bra: Mercy Underwire Bra
Title Nine may be more known for their sports bras, but they're one of the few that make an effort to provide pretty bras for the big-busted. With sizes going into the F's, most women can attest that their lingerie more resembles a girdle from the turn of the century than anything they'd want anyone to see them in. Title Nine doesn't quite have the support that you're going to get from Soma or Leonisa, but if you need something that comes in your size that doesn't make you feel like your grandmother, this is the place. The cups are also mesh which lets you get some much-needed breathing room, but still have support built through the cups so that it's not like dropping a water balloon in sack. (Don't pretend you can't relate)
Caveat: The straps and back support are too thin to rely on this as your go-to support system. It's more for a few hours when you want to look pretty under your layers.
Bare Necessities:
Favorite Bra: Fantasie: Susanna Side Support Bra
Answer truthfully my fellow Tits McGee's, when was the last time you had a bra match your panties? This bra and panty set is beautiful. The bra has hidden thicker support straps in delicate lace, built-in seaming to the cups, and is designed to solve the ever problematic side boob sag. I'm also quite keen to delve further into this company as it has made a clear effort to serve the curvier among us by having whole collections devoted to bigger, beautiful bras that run up to 42H.
Caveat: I admit I found this bra while researching for this article and haven't tried it, but I'll be rectifying that ASAP.
Runner Ups:
If you're not aware of Aerie's undergarments, acquaint yourself quickly. For those of us who aren't looking for super sexy lingerie but still want something pretty, Aerie offers (actually wearable) panties up to XXL and bras to 40DDD (though almost exclusively only online). The best part is they're not $100 bras and they're comfortable. In my experience there isn't a lot of support, but if you're in your early-to-mid 20s and/or you're more in the C-D cup range, this brand will likely hit your aesthetic.
Confession, I really loathe Victoria's Secret, which is perhaps blasphemy, because they've been making a push for bras up to 40DDD. That said, I'm not fond of padding (my boobs are big enough) and my breasts generally just flop out like listless fish who've fallen out of a net as soon as I move. But no list would be complete without them, and they are everywhere which makes them convenient.
If you're a curvier girl, you've likely run into a scenario that has pushed you into Lane Bryant before. I personally find them to be outrageously expensive for sub-par quality (and super itchy) but you cannot deny that you have a massive range in size, style, and scope of undergarments.
---
Thanks to Leonisa for providing a sample of their bra for this post.
Related