I love "Friends." Like, more than the average person probably should. It is for me, as it is for a vast majority of my fellow Millennials, a staple of my childhood and adolescence. A wonderfully funny, fantastically executed display of the perfectly imperfect life I hoped to have for myself when I grew up. From the casual humor the friends had between one another, to the honest way they came by the vulnerability of life in their twenties, to the beautiful New York City apartment Rachel and Monica called home, I remember watching the show thinking to myself, "This is what I want in my life."
Though what I wanted most of all was the camaraderie, comfort and reliability of a place like Central Perk, the coffee shop conveniently located at street level of Monica, Rachel, Joey and Chandler's building. A place that feels comfortable and inviting, where you know you'll always find a friend, a cup of coffee and great conversation. While in the real world we may not all be able to meet our friends at the drop of a hat, we can bring some of that Central Perk feel right into our living rooms using some budget decorations and a little creativity!
Plant Succulents In Giant Coffee Mugs
What's more "Friends" and Central Perk than a giant coffee mug? Though essential to creating an environment reminiscent of everyone's favorite coffee house, it may not be feasible to switch your current mug collection to oversized, decorative ones. The solution? Plant succulents in them and utilize the giant mugs as unique planters. Play with size and color for an interesting display on a shelf, end table or mantle.
Hang Some Artistic Posters Or Pop Art
Central Perk's wall art constantly changes throughout the series. Bring some attention to your walls with "Friends" inspired posters or interesting pop art. You can go with a literal "Friends" interpretation by grabbing the actual posters from Monica's living room and Rachel's bedroom, or you can search places like Etsy or art fairs for some unique pop art. Think bright colors and vivid images. Don't be afraid to change things up!
Snag A Rug
As most of us Millennials live in apartments or rentals that we can't paint or do much to aesthetically, a big rug can be a game changer to a living room when trying to achieve a certain look. Check out IKEA for a good selection of affordable area rugs, because going to a rug store can cost you a pretty penny and you may not be so sure what spills or pet stains have happened on a rug if you get it at a thrift store. (Shoutout to all my fellow pet owners. Your pup marking an old dog's territory is worth avoiding, amirite?) I like IKEA's Valby Ruta Rug, because the print is very similar to Central Perk's, but as long as you choose something eclectic and interesting, you'll be good to go!
Jazz Up With Some Lights
The cool neon lights on the back wall of Central Perk have always stood out to me. (You know, the big arrow with the word "Service" on it, pointing toward Gunther's domain and the cool coffee cup with the neon steam coming off it!) While neon may not be the most affordable or fashionable home decor piece, you can bring in the same interesting feel with these marquee letter lights from Target. A friend of mine put the letter of her first name up next to an ampersand and the first letter of her fiancé's name, and I could not get over how cute it was! These lights give off a soft glow that's not too overwhelming, and definitely brings in that urban appeal that we're looking for!
DIY A Chalkboard Frame
For a "Friends" inspired piece of decor you can change whenever you'd like, DIY one of these chalkboard frames. While Central Perk may use their board to proudly display Phoebe's shows or the shop's specials, you can use yours to display favorite quotes, drawings or shopping/to-do lists!
Throw Some Orange Pillows & Blankets
An image of the friends sitting around the coffee house is not complete without Central Perk's signature orange, overstuffed sofa. But let's be real, we can't all afford to go out and buy a new couch when we're looking to change up our decor, and slipcovers can be, well, pretty awful. To jazz up your couch, toss on some throw pillows and plush blankets in the dark orange we all know and love. 
Bonus Tip!
While it may not hang in the coffee shop, the peephole frame in Monica's apartment is SO "Friends," I think it deserves honorable mention. Did you know you can buy one here?!
There you have it! A few helpful tips to create your own Central Perk inspired space. For other aspects of your living room, like bookshelves, furniture and accessories, just remember that America's favorite coffee house is characterized by its bright colors, mismatched patterns and mixed up decor. "Friends" lovers, rejoice!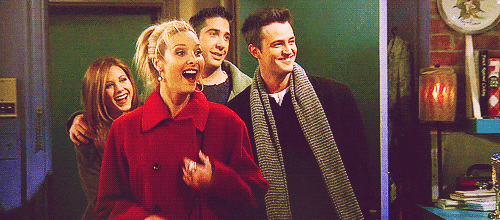 Related