Colder weather is steadfastly approaching; you might be prepared, Starbucks might be prepared, but is your skincare routine prepared? Fall brings a steady breeze that quickly turns to a biting wind, and constantly shifting temperatures can wreak havoc on your skin (shout out to all my fellow Midwesterners currently dealing with temperature changes from 85 to 65 overnight).
There are many things you can do to keep your skin healthy as cooler weather arrives.
Keep your face fresh
Your daily skincare routine should start with your face; wash it at least once a day. For those with sensitive acne prone skin, try St. Ives Green Tea Scrub (~$3.89). It helps combat blackheads and is oil and paraben free. The green tea is soothing to calm your skin and keep down irritation and redness. I use it every night. If you're already a diligent nighttime face washer, consider adding it to your morning routine, too (especially for my fellow NOT morning people). I find it much easier to wake up after I've washed my face with a brightening cleanser. I love the Aveeno Positively Radiant Brightening Cleanser ($6.99) since it's oil free and hypoallergenic. I use it morning and night since it's so gentle.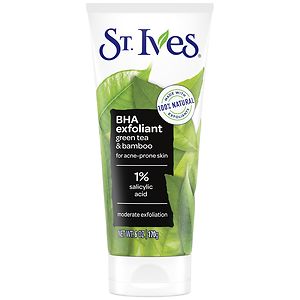 Spread the youth
My mom swears her youthful appearance is due in large part to one thing she tells me regularly: moisturize your face, morning and night. If you're still in your early twenties, you don't need to start reaching for anti-aging creams yet. But applying a small amount of lotion to your face and neck morning and night goes a long way towards reducing wrinkles and the effects of aging. We both like the St. Ives Timeless Skin Collagen Elastin Facial Moisturizer since it doesn't go on very thick and the container lasts forever when you are just using it as a facial moisturizer (the price varies, but it's currently $4.09 on Amazon.com).
Keep your body healthy and hydrated
It's much easier to stop drinking the recommended amount of water each day when it's no longer hot and humid out. But staying hydrated is just as important during the fall as it is in the summer months. Drinking water won't suddenly make you look younger, but it will help combat dryness in the skin and help keep needed moisture in. Some people have found that cutting down processed sugar helps combat acne, so that's something to consider as well (after all, there's nothing bad about prioritizing healthier eating whenever possible).
Clean and simple
Sometimes the best bath and body products truly are the simplest. I've recently started using homemade soaps from the local farmer's market and I like them much more than I anticipated. Look for homemade goat's milk or coconut oil based soap bars for the most moisturizing. Oatmeal and shea butters are also moisturizing and good for sensitive skin. Lush bath bombs are also an excellent way to relax while using a product you know is made from safe ingredients. If you can't make the switch to bar soap, consider a body wash that is for sensitive skin, like the hypoallergenic Dove Sensitive Skin body wash ($5.49). Lush has some excellent shower gels as well, but they're more pricey for the amount you get.  
Invest in a body lotion you'll really use
I buy makeup and beauty products like the apocalypse is coming, but not everyone has the same online shopping problems. If you haven't found a body lotion that you love enough to use regularly; don't fret. I've tried dozens and have narrowed down several solid standbys.  
Finding a moisturizer that works for you is important, especially if you have dry and sensitive skin. The jury's still out on whether it's best to moisturize daily or every other day. I find that sometimes my skin stops producing natural oils and gets dryer when I moisturize daily, but depending on where you live, the humidity, and how cold it gets, every day may work best for you.  I love the Aveeno Stress Relief Moisturizing Lotion ($8.99-10.99) for unwinding at night, since it has lavender and other essential oils that help you relax (and it's still gentle enough for my sensitive skin). The Daily Moisturizing Lotion is a solid standby as well ($8.99-10.99). Body Shop Body Butters ($21) are perfect for indulging now and then after a long week. My favorite scents are Pink Grapefruit and Satsuma, but they have many different scents to fit your preferences.
What are your favorite skincare tips and tricks? Share with us in the comments below or tweet us @litdarling!
Related