Here at Literally, Darling headquarters, we have been pining after fall all through those blazing hot summer days. Leaves changing, crisp cool air wafting through open windows, and the myriad fall fashion trends to lust after. And we certainly cannot forget the bounty of seasonal veggies that appear in our stores and farmer's markets, just begging to be devoured. Not only is seasonal produce delicious and healthy, but it will also be friendlier to your wallet than other produce that is not in season.
In a world where pumpkin rules seemingly all fall recipes, it can be difficult for those who dislike pumpkin to find other options. Luckily, we're here to save the day with some delectable, seasonal options that don't have a single touch of pumpkin in them.
Crispy Fried Brussels Sprouts With Honey And Sriracha
Brussels sprouts have been making a comeback lately, and it's time to give these "little cabbages" (as my grandpa calls them) some loving. They're full of fiber, antioxidants and phytochemicals, and combined with this flavorful sauce they're simply divine.
Butternut Squash Mac And Cheese
One of LD's writers concocted this dish last year, and while it might sound a little bit random, I'm here to tell you that it is to die for. Creamy cheese sauce and pasta combine with sweet butternut squash and the subtle crunch of breadcrumbs. Bring this to your next potluck and you'll go home with an empty dish.
Several years ago a friend made me a dish similar to this, and while I can't find the exact recipe, this is close enough. The crowning glory for this dish is the fried egg that goes on top of the sweet potato and kale combination. To amp up the dish a little more, add some sriracha and goat cheese to truly amaze your taste buds.
NOTE: Instead of kale you can use collard greens, but collards require a much longer cooking time and preparation.
Sweet potatoes are an excellent source of Vitamin A, Vitamin C, fiber, and potassium. And you'll get all of those with this is a colorful variation of the standard white potato latkes. These latkes can be served similarly with sour cream, applesauce, or any other sauce you wish to whip up. Or just munch on them by themselves—they're that tasty.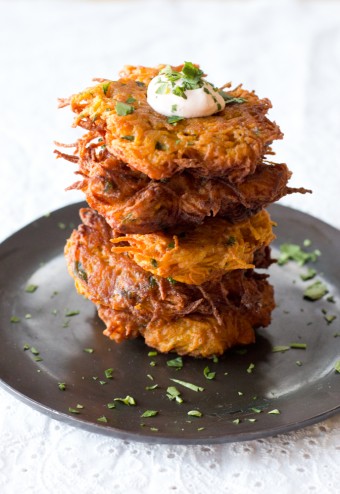 Slow-Cooked Salmon With Turnips And Swiss Chard
This particular recipe is a nutrition powerhouse with omega-3 fatty acids, Vitamin C, and magnesium, and it tastes delicious. Turnips are a root vegetable that is too often neglected, but really the key is finding the right recipe. But I'm here to tell you that the turnip struggle is worth it (although I'm not so sure of that with turnip greens).
Crispy Jerusalem Artichokes With Aged Balsamic
Jerusalem artichokes, also called "sunchokes," are not to be confused with the standard artichoke with the leaves that peel off. In fact, Jerusalem artichokes are a species of sunflower, while also being a tuber. I know—mind blown, right? This recipe pairs the sunchokes with a zingy balsamic glaze that will make you a convert in no time.
Radicchio Salad With Bean, Figs, And Walnuts Recipe
Radicchio is a colorful vegetable that looks a little bit like maroon cabbage or lettuce. But it's actually a variety of chicory and filled with Vitamin K, Vitamin C, folate, and copper. It adds a colorful "zing" to any of your dishes, and pairs beautifully in this sweet and savory salad. If you don't like figs, try dried cranberries, apples, or grapes.
What other non-pumpkin fall recipes do you like? Share them with us @Litdarling or in the comments below!
Related