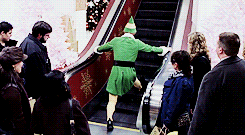 During the holiday season, most people fall somewhere on the Buddy the Elf-Charlie Brown-Grinch Spectrum. Those of you on the Buddy the Elf side of things usually start Christmas right after Halloween. You've probably been playing Christmas music on Spotify for three months, you got your tree a month ago, and you have a neatly planned Christmas, Channukah or Festivus list  drawn up for everyone you know. If that is you, then awesome. Good for you. The other type of people however, the Grinches and the Charlie Browns are super pissed off this holiday season. I am one of these people. Some of us don't even know why. Maybe it's about all of the gross things that are happening around the world right now.  Sometimes I feel self conscious and guilty about feeling cynical while others are content to chug eggnog and dance to Jingle Bell Rock, but I can't always help it. Cynicism  runs in my blood. I was born and raised in New York and am the child of two relatively cynical people, both from different religions. My Italian and Jewish side like to clash (and I don't mean sides of family, I mean sides of my brain).  Often, I feel like  both Woody Allen and Vito Corleone live in there.  "You come to me on the day of Jesus' birthday and ask me if God exists. Well if God exists, I hope he has a good excuse."
 The problem with being like this is that people get sick of it. They want you to shut up, eat your holiday dinner, smile, give them a present, and keep your neurotic Grinch on the inside. Here's the problem with keeping him on the inside: he's going to come out eventually. My favorite thing to do with him is to turn the tables, and channel him into comedy that is kind of mean but will make you laugh for a very long time.  Here's a list of things that you can do if you're a mean, grumpy, cynic that you'll probably find hilarious:
1)If you have little kids in the family who leave letters for Santa, write them letters back FROM Santa that will confuse them.
"Dear Shelly, Thanks for all of the cookies you left me. I couldn't eat them because I'm doing the paleo diet. Next week I have a big red carpet event I have to go to with Mrs. Clause. Just so you know, it's not the old Mrs. Claus, we got a divorce like your mom and your dad should. I decided I was in love with one of the Kardashians and we got married in a secret ceremony last month.  You were a very good girl this year, and I look forward to coming back next year. Sorry about the massive dump Rudolph took under your tree.

Love,

Santa"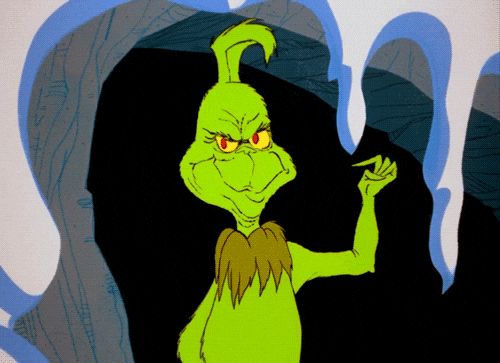 2) Find a random person on the street
Pay him to play your boyfriend or girlfriend this holiday season. Tinder is great for this. You can pick whoever you want. Go nuts.  I'm a big proponent of freaking your family out with whoever you choose. Best case scenario, you'll find your future husband who fits great with your family like in a Hallmark movie. Has this movie been made?  If not, Hallmark, please call me.
3)  Volunteer to babysit your little nieces, nephews, or cousins so that their parents can have a nice holiday night out:
Right before bed time, read them a really good Christmas story, like Anna Karenina, War and Peace, The Metamorphosis, Little Women, or Crime and Punishment. Little Women is a great Christmas story, because it's Christmas in the first chapter and it's the best until Beth dies. If you go with our friend Anna, explain to them that when they grow up, they can be just like you and have the goal to find a love that is so intense it will make them want to get hit by a train. If they start to cry, tell them it can be a Christmas train! Like the Polar Express! When mom and dad come home, and junior is scared that he is going to turn into a butterfly like Gregor, tell them that you had nothing to do with it and you think they must have watched something scary on TV.
4) Tell your local elementary school or church that you want to help them out with their Christmas pageant!!
Replace the script with Hamlet or Macbeth. Have you ever seen 5 year olds do Hamlet? It's the greatest. The parents are going to love it. Merry Christmas.
5) Find inner meaning in every single holiday song, to the point where no one can stand it anymore:
Read into everything. Did you know Rudolph the Rednosed Reindeer is a metaphor for high school bullies?
'All of the other Reindeer, used to laugh and call him names. They never let poor Rudolph, join in any Reindeer games".
It's basically the original Mean Girls. Did you know that Frosty the Snowman is a song about kids doing drugs?
"There must have been some magic in that old silk hat they found".
The hat is clearly a metaphor for a bong. Duh. Silver Bells is just a song about why you shouldn't rush. Everyone is always rushing in that song. STOP IT. One of you is going to get hit by a car. Come on, I mean,
"Even stop lights/Blink a bright red and green/As the shoppers rush home with their treasures.Hear the snow crunch. See the kids rush…"
Chill out you guys. Seriously. Ugh.
Now that you've had all of this fun screwing with people you big, cynical Grinch you, stop messing with everyone, and try to really make your heart grow three more sizes.  Volunteer in a soup kitchen, buy a homeless person a meal, or have a chat with someone you never thought you'd have a chat with. Even Scrooges like us can get turned around after we've had a little fun.
What's the Grinchiest thing you've ever done? Tweet @litdarling and @RachelResnik with your holiday confession.
Related