[video src="https://www.youtube.com/watch?v=fTnU5MG5Edw"]
Unless you've been living under a rock or somewhere as remote as Stars Hollow for the past four months, you know that Gilmore Girls is returning on November 25th in a four-part mini series titled Gilmore Girls: A Day in the Life. In fact, just this week the official trailer for the series was released and we are TOTALLY PSYCHED to say the least.
If you're anything like us, you're as impatient as Lorelai before her morning cup of coffee.
Or Paris before college decision day.
Or Emily before hosing a dinner party.
OK, you get the point—We. Can't. Wait. While we can't make Thanksgiving approach any more quickly, what we can do is tide you over with some tasty treats à la Luke's Diner.
These recipes are quick, easy, and totally unhealthy—just the way Rory and Lorelai like them. Eat like the Gilmore Girls themselves while watching your favorite episodes in preparation for the big release. No flannel or backwards baseball cap required.
Banana Chocolate Chip Pancakes
1 1/2 cups flour
1 Tbsp sugar
2 Tsp baking powder
1/2 tsp cinnamon
1 1/4 cups milk
1/2 cup mashed banana
1 egg, lightly beaten
1 Tsp vanilla
1/2 cup chocolate chips
Combine flour, sugar, baking powder and cinnamon in a large bowl.
After mixing well stir in milk, banana, egg and vanilla.
Fold in 1/4 cup chocolate chips.
Heat a griddle, sprayed with oil on medium heat. Pour batter onto griddle making 3 inch rounds.
Cook about two minutes or until tops are bubbly. Flip pancake and cook for another minute or until golden.
Prepare remaining pancake batter as directed adding more spray if needed.
Place on individual plates and sprinkle with remaining chocolate chips.
Serve with: COFFEE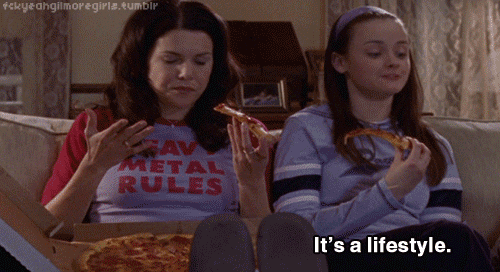 Grilled Cheese
2 slices bread, not more than 1/2 inch thick

Butter

Mayonnaise

1 to 2 ounces grated cheddar (or other cheese)
Heat a heavy pan over medium-low heat.
Thinly spread one side of each bread slice with butter. Spread the other side of each slice with mayonnaise and place the bread, mayonnaise-side-down, in the pan. Divide the cheese evenly on top of the buttered slices. Adjust the heat so the bread sizzles gently.
When the cheese is about halfway melted, use a spatula to flip one slice over on top of the other, and press lightly to melt. Keep turning the sandwich, pressing gently, until the sandwich is compact, both sides are crusty, and the cheese is melted.
Serve with: COFFEE
 Nachos
2 bags corn tortilla chips (pick chips in different colors for an added flair)
Pico de Gallo Salsa:

4 vine-ripe tomatoes, seeded and chopped
1 jalapeño pepper, seeded and finely chopped (for medium to hot heat level)
1 small white onion, chopped
1/4 cup, 2 handfuls, cilantro leaves, finely chopped
Salt

Beef and Beans Topping

1 Tbsp extra-virgin olive oil
1 pound ground sirloin
2 cloves garlic, chopped
1 jalapeño pepper, seeded and chopped
1 tsp salt
1 1/2 Tsp dark chili powder
1 1/2 Tbsp ground cumin (half a palmful)
2 tsp to 1 Tbsp cayenne pepper sauce (medium to hot heat level)
1 can black beans (35 ounces, drained)

Cheese sauce

2 Tbsp butter
2 Tbsp all-purpose flour
2 cups milk
3/4 pound pepper jack cheese, shredded (about 2 1/2 cups)

Additional toppings

Sour cream
Chopped scallions
Chopped black olives
Diced pimento
Sliced avocado
Hot pepper sauces
Arrange a mixture of two varieties of corn chips on a very large platter or use your broiler pan as a platter.
Combine salsa ingredients in a bowl and set aside for flavors to marry.
Heat a medium nonstick skillet over medium high heat. Add oil, garlic, onion and peppers to the pan and sauté 2 minutes, then add meat and crumble with wooden spoon. Season meat with salt, chili powder, cumin and cayenne pepper sauce. Cook meat 5 minutes, then stir in beans and reduce heat to low.
In a medium sauce pot, melt butter and add flour to it. Cook flour and butter 1 to 2 minutes over moderate heat, then whisk in milk. When milk comes to a bubble, stir in cheese with a wooden spoon. Remove cheese sauce from the heat.
Pour cheese sauce evenly over the massive spread of chips and top evenly with beef and beans and the pico de gallo. Serve immediately as is or, garnish with your choice of extra toppings from the toppings list.
Serve with: COFFEE

Cherry Pie
4 cups fresh or frozen tart cherries
1 to 1 1/2 cups granulated sugar
4 Tbsp cornstarch
1/8 Tbsp butter (to dot)
1 Tbsp granulated sugar (to sprinkle)
Pillsbury Refrigerated Pie Crust (because making the filling is enough work)l
Place cherries in medium saucepan over low heat and cover. After the cherries lose much of their juice juice, remove from heat. In a small bowl, mix the sugar and cornstarch together. Pour this mixture into the hot cherries and mix well. Add the almond extract, if desired, and mix. Return the mixture to the stove and cook over low heat until thickened, stirring frequently. Remove from the heat and let cool. If the filling is too thick, add a little water, too thin, add a little more cornstarch.
Preheat the oven to 375 degrees F.
Roll out pie crust and divide in half. Roll out each piece large enough to fit into an 8 to 9-inch pan. Pour cooled cherry mixture into the crust. Dot with butter. Moisten edge of bottom crust. Place top crust on and flute the edge of the pie. Make a slit in the middle of the crust for steam to escape. Sprinkle with sugar.
Bake for about 50 minutes. Remove from the oven and place on a rack to cool.
Serve with: COFFEE
And there you have it: the perfect meal to tide you over until you're re-stuffing yourself with Thanksgiving leftovers while reuniting with Rory, Lorelai, and the rest of Stars Hollow. Let the Netflix-binging and mouth-stuffing begin.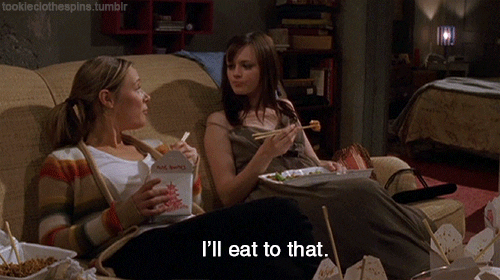 Related