I'm guilty of exhibiting many behaviors more commonly attributed to 70 or 80 year old women—I believe in the sanctity of a reasonable bedtime (hello, 9:00); I shake my fist when I hear a motorcycle roaring down the street (damn youths!); and I prefer to line the drawers of my dresser with scented paper liners. I'm a senior citizen in a 22 year old's body and I'm proud of it. Which is why I'm not ashamed to tell the world that I pulled a muscle engaging in one of the most grandmotherly activities out there: scrapbooking.
And let me tell you, that pulled muscle was 100% worth it. Friends, I am obsessed with scrapbooking and this summer you should be too. What better way to document the end of your undergraduate or graduate years, that week at the beach you'd otherwise forget if not for the plethora of selfies on your camera roll, or a spontaneous weekend getaway?
Maybe it's the geriatric in me talking, but I'd much rather have tangible evidence of my favorite memories instead of storing them on my phone or hard drive—both of which are prone to crashing at any moment. What's more, scrapbooking allows you to present photos, fliers, tickets, and other souvenirs in a more aesthetically pleasing manner than scrolling left or right on a touch screen or rifling through your junk drawer.
Have I convinced you? Good. Now let's get started.
GET INSPIRED
I've made three sizable scrapbooks in the past four years and each time I approached a new project, I'd wing it, trying out different layouts and displays from page to page. This has worked out pretty well in my experience (chalk it up to natural creativity and perhaps too much time on my hands), but if you prefer some guidance before you dive in head first, do a quick Google search of Pinterest or other crafting sites to help get the creative juices flowing. Fair warning, what you find on the internet may—and, in fact, probably will—be way more ambitious than what you're willing to attempt. That's a-ok. Remember your goal is creation not imitation (too corny?).
GET MATERIALS
If you allow it, scrapbooking can become quite an expensive hobby, which is why I prefer to stick with the most basic scrapbooking materials:
–       Scrapbook album: I prefer the 12''x 12'' album by Recollections. These are available in a variety of colors at any major craft store.
–       Photos: I recommend printing between 80 and 120 photos depending on how many you plan on scrapbooking or how long the event was that you wish to commemorate in your project. I tend to overestimate and print as many pictures as possible, so that I have plenty to choose from.
–       Double-sided tape: At this point I've become somewhat of a tape snob, so I prefer to use Scotch scrapbooking tape. This tape is narrow (roughly half an inch wide) and covered with an easy-to-remove protective layer on one side. You can just as easily use regular double-sided tape, but I recommend permanent double sided tape so that your photos don't fall to the bottom of their pages over time.
–       Colored cardstock: Most craft stores offer packs of multi-colored cardstock, allowing you to either purchase packs of 7 or 8 colors or smaller packs in a specific color scheme.
–       Ruler (or other straight-edge tool): Trust me, your hand isn't as steady as you think it is.
Willing to spend a few more bucks? Here are a few cool additions to give your scrapbook a little more spunk:
–       Heading letters: If I trusted my own handwriting a bit more, I wouldn't be as keen on dishing out $5.00 per pack of letters, but I do think these are worth the investment. Like the proper color scheme, the style of header you choose can contribute to the theme of your scrapbook.
–       Patterned paper: While I don't recommend selecting a pattern for each page of your scrapbook, inserting a pattern on the first and last pages of your project—the former of which might be your title page—can make the book feel more cohesive.
–       Stickers: Just walk into the scrapbook sticker aisle of any craft store and you'll find more stickers than you can swing a dead cat at. I use that somewhat morbid metaphor because you would truly not believe the number of scrapbooking stickers that exist in the world of arts and crafts. Enough to choke a horse and then some. Dead animals aside, stickers can add a neat dimension to your pages, but don't go overboard, people.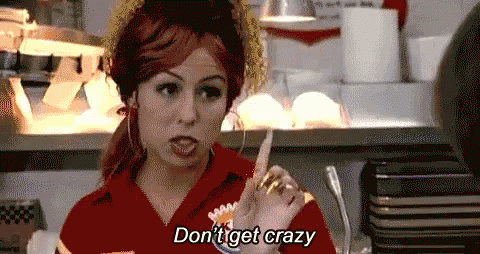 GET ORGANIZED
Remember that pulled muscle I mentioned? I probably could have steered clear of that physical repercussion had I not sprawled out on the floor and hunched over my project for four or five hours last weekend. Instead of turning your bedroom floor into a minefield of photos, paper scraps, tape, and scissors, put your scrapbooking materials out of harm's and the dog's way on a counter or table top. I recently set up a folding card table in front of the TV in my den where my project is out of the normal flow of traffic and in the perfect position to catch up on Season 3 of Jane the Virgin while I work.
And speaking of work, the project will flow much more smoothly if you've sorted your photos beforehand. Whether you're arranging each page chronologically or by subject, separate your photos into piles and label each with a sticky note (ex: "Tuesday at British Museum"), so that you don't have to rifle through that massive photo order each time you begin a new page.
GET CRAFTING
Whether you're keeping yours for yourself or gifting it to a friend, scrapbooks are incredibly personal and as such, there is no right or wrong way to create them. That being said, there are a few basic cuts and displays you should consider using so as to mix up the presentation of your photos:
Corners: To present photos in what I've dubbed the "corner" style, simply overlay the corner(s) of your photos with triangles of cardstock to make square or rectangular photos pop on the page. I find myself alternating between two and four corners from page to page. (You can also buy pre-made paper or metal corners at most craft stores.)
    

Full frame: This style is pretty simple and somewhat self-explanatory. I recommend taping your photo to the cardstock background before tracing the straightedge or ruler at a slight distance from the photo on each side.
Detailed edge (with and without background): The detailed edge is the most sophisticated cutting method and while it doesn't work with every photo, when you find the right one, it looks incredible. I love cutting detailed edges around people in photos or interesting statues or cityscapes. Once you've cut out the image in the photo, you can either tape it to the page as is or overlay the image on a cardstock background.
Are you overwhelmed? Don't be. As I've said before, you're limited only by your imagination (or Pinterest inspiration) and as long as you've got photos and a page to stick them on, you'll be good to go. The work is slow going, but the result is so worth the time and effort. In fact, once you get into a groove, scrapbooking is rather a mindless activity. Kill two birds with one stone by catching up on your latest Netflix addiction or your favorite podcast to pass the time. Now enough of my murderous metaphors… Happy crafting!
How's your scrapbook coming along? Tweet us comments, questions, or pictures @litdarling!
Related