Cooking food with healthy ingredients can call for some creativity in the kitchen. Whether you are vegan, gluten-free, or just trying to eat clean, flipping through cookbooks or scrolling through Pinterest will often leave you disappointed with all the options that don't meet your dietary restrictions. Likewise, if you're just trying to eat healthy, a common misconception is that you will automatically have to eliminate certain foods from your life completely. This is why so many strict diets quickly fail.
While I'm a big believer in indulging in your favorite foods simply for the sake of enjoyment sometimes, I've also found that swapping out certain ingredients of these foods with healthy alternatives can go a long way in improving the quality of my food intake without sacrificing the tastes I love. Here are seven of my favorite recipes using healthy ingredient substitutes and honest reviews of what to expect from each one.
1. Cauliflower Fried Rice
I went into this recipe with relatively low expectations since it was the first time I experimented with cauliflower rice. All I can say is I don't know what the heck took me so long to do so. If, like me, you have always been opposed to eating little white stalks, don't be weirded out by its use as a rice substitute in this recipe. The cauliflower itself doesn't have a strong taste, so it will mostly take on the flavors of whatever you cook it with. Texture is the big difference, as it won't have the starchy chew of regular rice. However, I didn't mind the sacrifice in exchange for working another serving of vegetables into my day.
Pro tip: The cauliflower rice doesn't take more than a couple of minutes to cook. You want to avoid overcooking it so it doesn't get mushy. Be ready to mix all of your other ingredients in immediately. By the time you have thoroughly mixed in the eggs, your fried "rice" is ready to serve.
http://iowagirleats.com/2015/04/10/cauliflower-fried-rice/
2. Cauliflower Crust Pizza
The fried rice went so well that I thought I'd take my cauliflower obsession to a new level and try making pizza with a cauliflower crust. When a coworker first told me about this recipe, I thought she was nuts. What was the point of pizza if not for the doughy crust?
My curiosity eventually got the better of me, and I decided to give it a try. I'm glad I did. While I would never give up my addiction to real pizza, this was a surprisingly pleasant substitute. It satisfied my craving for Italian. With the addition of lots of mozzarella cheese and some turkey pepperoni, it almost felt like a cheat meal, rather than the healthy low-carb option it was.
Pro tip: Draining the excess water out of the cooked cauliflower is not optional. I didn't do this very well. My mistake resulted in an overly moist crust that fell apart after baking. Still, the flavor was good, if you aren't opposed to eating your pizza with a fork (or a spoon…seriously, drain the cauliflower). Also, don't skimp on the basil and oregano. It makes your kitchen smell like a super yummy Italian restaurant while it's cooking, and it gives the pizza the extra flavor it needs.
http://damndelicious.net/2015/04/20/mini-cauliflower-pizzas/
3. Avocado Tuna Salad
This is another recipe that I was super skeptical about, and I ended up loving it. It's definitely possible to make a delicious salad without the addition of any mayo or extra dressing. Although, I will admit to adding a dollop of Greek yogurt into the tuna mixture for extra creaminess. However, the mashed avocado works just fine as a binding ingredient. Plus, it has a nice taste, especially combined with the crunch of the chopped carrots and celery used here.
I also added some sweet pickle relish and a heavy dousing of black pepper. Served over a bed of baby spinach and slices of tomato, it made a great lunch salad that I could take to work in one container without worrying about it getting soggy.
Pro tip: You will need to eat this within a 2-3 days at the most. Mashed avocado gets brown even quicker than whole avocados. So this does not make a great recipe if you are doing your weekly meal prep in bulk.
http://happyhealthymama.com/avocado-tuna-salad-no-mayo.html#_a5y_p=5395136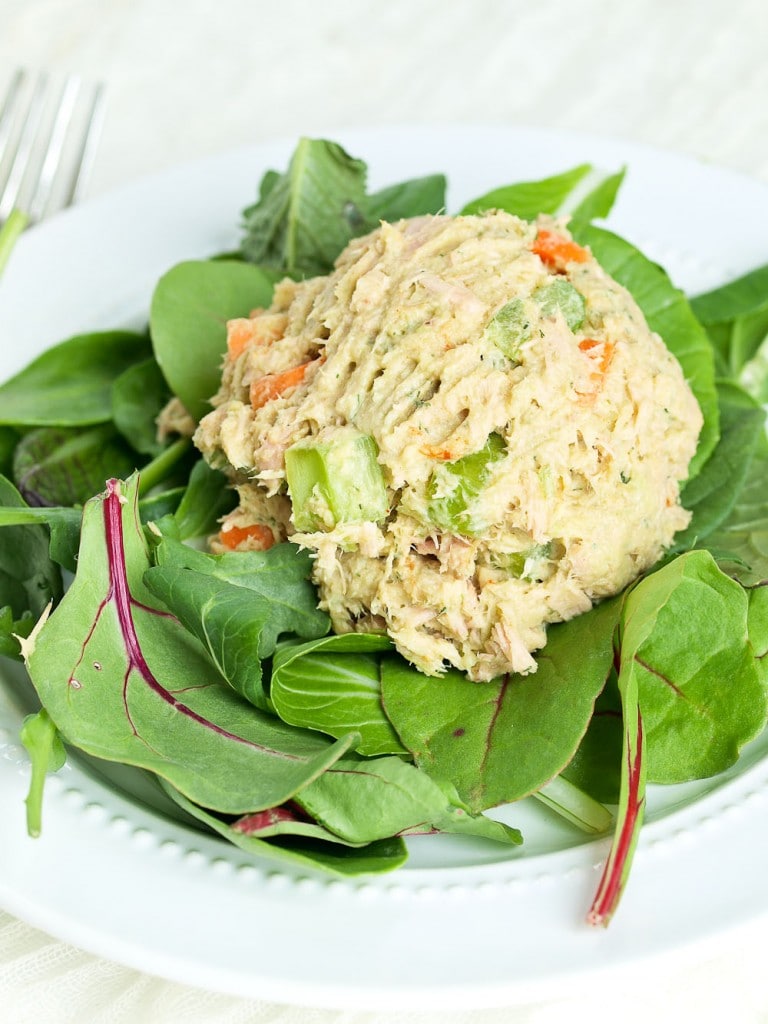 4. Creamy Broccoli, Rice, and Cheese with Greek Yogurt
Broccoli, rice, and cheese was one of my favorite comfort foods growing up. As someone who was basically raised on casseroles containing cream of mushroom soup, attempting to eat clean and remove canned foods from my diet has been one of my biggest challenges in healthy eating. Additionally, I'm not a big yogurt fan. Nevertheless, plain Greek yogurt has become a staple in my fridge for its versatility as a creamy thickener for everything from the above mentioned tuna salad to my favorite rice and pasta dishes.
I used low-fat mozzarella in this recipe as well as non-fat Greek yogurt. With a generous helping of chopped chicken breast mixed in, it made a very satisfying comfort food without being overly heavy.
Pro tip: Greek yogurt does separate if you let it sit. If you are reheating this and eating it as leftovers make sure to mix thoroughly and drain out the extra liquid first.
http://www.wellplated.com/chicken-broccoli-rice-casserole/
5. Zoodles
I'm luke warm about the use of spiralized veggies as noodle substitutes in general. No matter how much it looks like my favorite pasta dish, the texture is just too different to trick my taste buds into enjoying it. However, I've found that if I embrace recipes like this French onion zoodle bake as a creative way to get extra veggies without expecting it to taste like actual noodles, then I'm down with it. Besides, who doesn't love French onion soup? This quick version is easy to make and even easier to eat!
Pro tip: Don't cook the zoodles too long. You want to maintain the crunch of the raw zucchini. Nothing is worse than a serving of limp overcooked vegetables, especially when served in long, thin strands.
http://www.climbinggriermountain.com/2016/02/french-onion-zoodle-bake.html
6. Turkey Loaf
I've never been a big meatloaf person. I don't want to eat something if I can't tell what's in it, especially when served in a lumpy loaf form. However, this turkey loaf is tasty and simple. With clear layers of spinach and cheese, you won't be left trying to remember what you mixed into it. I've been working on substituting ground turkey for ground beef in most of my favorite recipes. While ground turkey on its own doesn't have much of a taste, it's an easy way to cut down on fat while allowing you to concentrate on the flavors of the other veggies and spices.
Pro tip: Feel free to use your favorite pasta sauce instead of ketchup in this recipe. Just don't dump the entire jar on top like I did. You can have too much of a good thing. And there's a difference between melt in your mouth and just plain falling apart.
http://www.simplyhappenstance.com/turkey-meatloaf-spinach-mozzarella/
7. Chocolate Chip Banana Muffins with Almond Flour
When I decided to start eating clean and removing added sugar from my diet, I thought I'd have to give up baking for good. But it is possible to make some of your favorite breakfast foods like muffins and pancakes without using sugar, flour, or butter. I know it sounds crazy. Again, this is one of those things where there's just no substitute that's quite good enough to pass as the real thing. However, these muffins made with almond flour make a great snack or on-the-go breakfast.
The dark chocolate is the real star here. But since these muffins are packed with fruit, nuts, and eggs, they are a more filling solution to your sweet tooth's cravings than the typical sugary breakfast pastry.
Pro tip: Don't skimp on the cinnamon or nutmeg. Since there is no extra sugar added, the muffins can be pretty bland otherwise. The result is more spongy than cakey, since it relies pretty heavily on the banana as one of its main ingredients. However, they are quite tasty when topped with a little peanut or almond butter. I'm looking forward to experimenting with this recipe further by adding extra nuts or maybe raisins next time for an additional  texture boost.
https://therealfoodrds.com/banana-chocolate-chip-mini-muffins/
We're always looking for new recipes! If you have a favorite recipe using one of the above healthy ingredients, tweet us @litdarling and let us know!
Related