I love to unwind by pampering myself at the end of a long day. I mean, who doesn't? I used to be solely a shower kind of girl, because the idea of lying in a tub full of water kind of grossed me out. This is probably in part because I lived in an old college apartment three years, and then I moved into an apartment without a tub until last year. I also could never solve the dilemma of needing to wash my hair and face, but not wanting to do that in a tub full of bubbles. Luckily, I have found a solution: I now take a very quick shower and wash my hair/ face/ body, while the tub starts to fill up.
Now, I'm fully converted to the relaxing bath life, and I've discovered some key ingredients to make a hot bath the perfect place to unwind.
1. The perfect temperature
I take hot showers, and even hotter baths. Since everyone feels a little differently about the appropriate water temperature, my best advice is to sit in the tub while it's filling up. That way you can tell if the water is too hot or too cold, before it's already full. I start with warm water at first and switch to progressively hotter as the tub fills more. If you want an expert opinion, here's what the doctor's say, but I won't be whipping out a thermometer to check mine any time soon.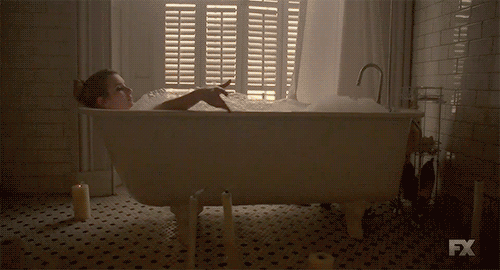 2. Bath bombs and melts
Thanks to Lush, I discovered bath bombs.  It was the best thing that happened to my bathing routine, and one of the worst things to happen to my wallet. Bath bombs make a bath more fun because they add  fizz and texture to ordinary bath water and are filled with relaxing essential oils and moisturizers (like coconut oil) that make your skin feel softer. My favorites are the vanilla scented butterball and luxurious lavender twilight bath bombs.  When my skin is feeling dry, I opt for a bath melt like lemon and vanilla scented floating island or you've been mangoed. These don't fizz, but they're packed with butters that help moisturize your skin.
If you prefer to shop a bit more local, I love the bath bombs in my sorority sister's shop Fizz Soak Relax, and the super cute shapes of the ones at Shine Happy Life bring me a lot of joy.
Or, if you're feeling really ambitious, you can make your own (it's actually pretty easy and quick to do).
3. Bubbles
Let's not forget the bath necessity we loved most as kids: bubbles. They're just as fun in adulthood, and are somehow they're very relaxing.  Once again, Lush comes to the rescue. Their bubble bars are super cute and fun. If you want the traditional liquid bubble bath (or just something that will last you lots of uses), I recommend Deep Steep bubble bath (I love the lavender chamomile scent). It is cruelty free and dye free, it doesn't contain any nasty chemicals, and made of entirely organic oils.  That's hard to beat in my book. Sometimes you can find this brand at your local TJ Maxx or Marshalls, if you're looking for a better deal on this product.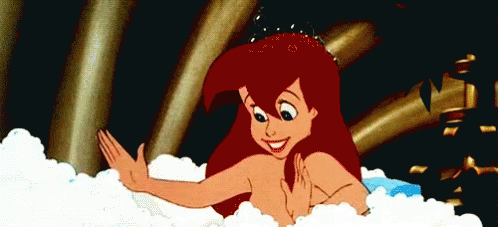 4. A good book
If you're going to relax in a bath for a while, you need something to occupy your time. Grab one of your old favorites, or try a new piece of fiction to get lost in. Some recent favorites of mine are the Blythewood Series by Carol Goodman (fantasy),  Who She Was by Stormy Smith (teen fiction) or a good mystery –lately I've been devouring all the detective Erika Foster books by Robert Bryndza. But really, anything works! You could read a magazine, a business book, or your favorite blog. Whatever helps you unwind!
5. Extra accessories
If you want to step your bath game up a notch, you can add some extra accessories. If you're a fan of candles, consider some tea lights to set the mood. I usually opt for a diffuser with essential oils. You can also grab a bath pillow to lean on while you soak. I've been pining for a bathtub tray to hold your book and a cold (or warm) drink on while you unwind. Last, but definitely not least, don't forget a luxuriously soft towel and robe to cozy up in when you're done.
That's all you need to soak in and unwind. Now, if you'll excuse me, I've got a tub full of bubbles and a new bath bomb calling my name.
Main photo credit: Karla Alexander
Related