Most of the writers here at Literally, Darling have fallen pretty in love with all things "fall." We're whipping out our decorative gourds, lighting seasonal candles, visiting pumpkin patches and grabbing our favorite blanket scarves. We're also having some adventures in the kitchen, trying our favorite fall recipes–new and old– and figuring out what to do with all those leftover pumpkin guts as we settle into the chilly weather and welcome the rest of autumn.
Here's what we're eating (and drinking) this season (just click the name to get to each recipe!)
1. Pumpkin Spice Lattes (with real pumpkin)
My cafe at work has pumpkin pie lattes, and I'm only slightly ashamed to admit that I've picked one up at least twice a week since they arrived on the menu a few weeks ago. A delicious decision, but not necessarily a budget-friendly one. Plus, when I spend a lot of time thinking about the artificial ingredients in flavored coffee syrups, I feel less great about the two pumps a day, twice a week. Luckily, I discovered this recipe. Made with real pumpkin puree, pure vanilla, pumpkin pie spices and other yummy (real) ingredients, it's the perfect way to indulge in a favorite fall treat at home.
-Allie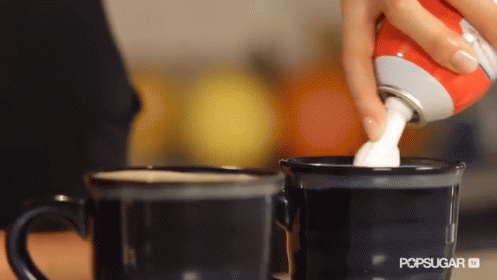 2. Sweet Potato Shepherd's Pie
Shepherd's Pie is a cozy, filling option and this recipe is an updated, lighter version of the classic recipe. While I'm not sure why you would want to substitute anything for the scrumptious sweet potatoes or brussel sprouts, one of the best things about this recipe is that substitutions happen so easily. No celery on hand? No big deal! Want to see what it's like with ground chicken? Go for it! I've made this delish number quite a few times for other people; when I tell them I'm making Shepherd's Pie they think they know exactly what they're getting, and without fail I've gotten to enjoy their surprised pleasure at this novel recipe.
-Chloe
This recipe comes from Martha Collison's (you may remember her from the Great British Bake Off) new cookbook, which I absolutely adore. I split mine into two loaf pans so that I could give half of it away, and it turned out beautifully. It's easy to make and has a nice long bake, and even better stays fresh for days afterward. It's a bit dense, but incredibly moist, and works as a cake or a loaf. I'm not a fan of icing so I made a bourbon pumpkin spice whip cream to pair it with and served with a pot of chai on a chilly fall evening. You can't beat it.
– Katie
Think fall favorite dessert, pumpkin pie, except in smaller doses (like a cupcake is to a cake). These seemed to be more of a favorite then the actual pie, simply because they are so quick and easy to eat. This was my first year making them, and I am already planning on making them again this season. Included in the recipe is a link to the crust, which was my first successful crust ever, so you know it's easy.
-Kristin U
I love this recipe because it is full of herbs, and a break from typical fall casseroles, pies, and stuffed squashes. You can use it as a dressing, or as it's own meal, like I did. You can also make it your own. I didn't add as much bread called for, and skipped out on the celery entirely. Instead, I added a bit more apples, carrots, sweet onion, and added some thyme as well. Buttery and flavorful, this is a pleasantly healthy savory dish.
-Kristin U
If you're looking for something EXTREMELY decadent, then look no further than this pie that is basically brownies and pumpkin pie all in one bite. I remember late nights in college when my roommate and I would add pumpkin to our brownie mix, but that's nothing compared to this amazing dessert.
-Maggie Stough
And we are here for it. Haters gonna hate.
This combo is a no brainer and definitely something you want to wake up to. Best of all, it's super easy to make! If you're hosting visitors this fall or want to make a weekend morning a little sweeter, this recipe is perfect for whatever occasion.
-Maggie Stough
The first time I made this recipe, my mom's quilt guild called an emergency pumpkin cheesecake meeting so that they could try them. Since then, they've been served at Thanksgivings and other guild meetings. It's an amazing handheld snack that isn't too difficult to assemble and will look great in your instas when you add that dollop of whipped cream and sprinkle of pumpkin pie spice on top.
-Maggie Stough
9. Pumpkin Spice Cookies with Cinnamon Cream Cheese Frosting
I love celebrating the autumn season with this recipe! These cake-like cookies can be served multiple ways: plain, with frosting, with chocolate chips or nuts. I usually make these cookies multiple times every fall as they're a hit with picky eaters as well as dessert enthusiasts.
-Maggie Stough
This recipe has been on my to-bake list for a couple of weeks now. I'm eager to see how adding pumpkin will spice up the traditional sugar cookie recipe.
-Maggie Stough
I remember seeing a YouTuber make this in one of their vlogs. Sadly, it's another recipe that still lives on my to-make list, but I've heard rave reviews of it. If you'd like to try your hand at making gnocchi, but don't have the budget for a bunch of ingredients, this five ingredient recipe is the perfect solution! Bon appetit!
-Maggie Stough
What are your favorite fall recipes? Share them in the comments below, or tweet us @litdarling!
By Allie, Chloe, Katie, Kristin U. and Maggie Stough
Related