Being a huge fan of avoiding crowds and unnecessary social interactions, it is only natural that I'm forever grateful for the existence of online shopping.
Sadly, though, even online options are somewhat limited, and browsing page after page of ordinary, nearly-identical results on Amazon in the quest for something special does get quite tedious. Etsy is rather wonderful, of course: it's quirky, eclectic, and it's a overall a great way to support small business owners. But for those times when it just doesn't cut it, I have compiled a list of websites that you may not have heard of yet, but I guarantee you're going to love. Here it is, for your enjoyment—and gift giving opportunities!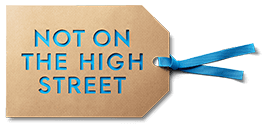 The home of all things personalised. Your sister just got engaged? Your best friend has a new flat? Your Grandfather is approaching a milestone birthday? Whatever the occasion or the recipient, you'll find something here. Their platform counts more than 5000 partners (that is, independent shops—Etsy-style), and each of them offers high quality items, often individually made or decorated. If you want a gift that will long outlast the special occasion you're giving it for, look no further.
Perfect for: Family and loved ones; Couples; Special occasions
Are you determined to be remembered in your group of friends as the greatest gift-giver of all time, but  don't know where to start? Firebox has just the solution for you—if your friends have a decent sense of humour, that is. It's impossible to describe their endless selection of unique, hilarious and creative gifts: just have a look and be amazed. Designed and manufactured by a few, handpicked creators, their items can be as useless as they are extraordinary—but that's okay: they'll most definitely leave an impression, and that's all that matters.
Perfect for: Friends; Anyone who likes a laugh
Despite your best efforts, you've yet again been caught in the trap of Secret Santa at the office, and you have no idea what to give—we've all been there. Gift republic has what you might be looking for: gifts that say, I've put some thought into this and you should be impressed, without revealing that you actually spent a lot longer picking where to have dinner… But your colleagues don't need to know that! Classic gift-ideas with an eclectic twist.
Perfect for: Co-workers; Acquaintances
You want your gifts to beautifully designed as well as useful; to mark the occasion and to still be used for years to come; to look (and make you look) classy and sophisticated. In short, you want your gifts to be perfect. You want Uncommon Goods. From thoughtful handmade creations to stunning home decor, this website just has it all. Their entire collection belongs on a Pinterest board. You're bound to find something that will leave even your pickiest friends speechless.
Perfect for: People who have everything already
We all know somebody who always has the coolest accessories and owns the quirky-but-tasteful home décor; that friend who always, inevitably looks on point, to the point of being almost annoying. If you've been wondering where people like that find their treasures, it's here at bNifty, where everything is just right. Original without being over the top; noticeable without being tacky; perfect without appearing staged. It's just nifty.
Perfect for: People who stand out
Stationary, prints, and book bundles–Oh my! Not everyone likes literary gifts (hard to believe, if you ask me), but those who do will fall in love with Bookishly the moment they see their wrapping paper—let alone what's inside. They have a carefully selected range where everything, from start to finish, is made with excellent care and impeccable taste. If you're a book lover too, you'll find yourself ordering two of everything: one to give, and one to keep.
Perfect for: Book lovers
Some people find beauty in words and stories, others in numbers, elements, and nature. Present Indicative is where you'll find the perfect gift for both of these types of people, and more. Like a perfect encyclopedia of gift-giving, this website is perfectly organised by subjects and is a paradise for the academically inclined—both those who cultivate it as a passion, and those who have turned it into a profession—as well as for anybody with a curious mind. It started as a sister site to The Literary Gift Company, which is always worth a visit too.
Perfect for: People who love learning
I hope you've made good use of the 'Open in a new tab' option, and are now staring at pages upon pages of cool and extravagant items. Happy browsing!
---
 Tell us about yourself! Do you have any recommendations of your own? What are your go-to websites and shops? Tweet us @litdarling!
Related